Destinations > Arequipa
PERU TRAVEL GUIDES
Arequipa
This Arequipa Travel Guide provides insider tips on the best things to do and see in this beautiful destination. From amazing outdoor activities to authentic local cuisine, our guide will help you make your visit easy and convenient. Experience culture and adventure like never before with our comprehensive travel guide for Arequipa!
Traveling in the Arequipa region of Peru offers a diverse and enriching experience for visitors. The region is home to stunning landscapes, including the Colca Canyon, one of the world's deepest canyons, and the snow-capped peaks of the Andes Mountains.
The city of Arequipa itself, known as the "White City" due to its unique architecture made from volcanic sillar stone, boasts a rich cultural heritage, with well-preserved colonial buildings and charming plazas. The region also offers a range of outdoor activities, such as hiking, bird watching, and exploring traditional villages. Its pleasant climate, with warm days and cool nights, makes it a comfortable destination for travelers throughout the year.
The Arequipa region of Peru is absolutely worth visiting for its natural beauty, cultural attractions, and unique experiences. The city of Arequipa is a UNESCO World Heritage site, offering visitors the opportunity to explore its historical landmarks, such as the Santa Catalina Monastery, the Basilica Cathedral, and the San Camilo Market.
The Colca Canyon, a must-visit attraction in the region, provides breathtaking views and the chance to witness the majestic Andean condor in flight. Furthermore, the region's traditional cuisine, featuring dishes like rocoto relleno and pastel de papa, adds to the overall appeal of visiting Arequipa. The combination of stunning landscapes, cultural richness, and outdoor adventures makes the Arequipa region a fantastic destination for travelers seeking an authentic Peruvian experience.
Acclimate to the altitude: Arequipa is located at an altitude of about 2,335 meters (7,661 feet) above sea level. Give yourself some time to adjust to the altitude upon arrival, as altitude sickness can affect some travelers. Stay hydrated, take it easy on the first day, and consider drinking coca tea to help with acclimatization.
Pack layers and sun protection: Due to Arequipa's high altitude, the sun is strong during the day, and temperatures can drop significantly at night. Bring sunscreen, sunglasses, and a hat for sun protection, and pack layers of clothing to accommodate the fluctuating temperatures.
Explore traditional villages: Venture beyond the city of Arequipa to discover the region's traditional villages and rural communities. Visiting places like Yanque, Chivay, and Maca will give you a glimpse into local life and customs, as well as the opportunity to support small businesses and artisans.
Visit during local festivals: Arequipa's calendar is filled with colorful festivals and events. Time your visit to coincide with one of these celebrations, such as the Anniversary of Arequipa in August or the Virgin of Chapi Festival in May, for a unique and memorable experience.
Get an early start for Colca Canyon: When visiting the Colca Canyon, plan to start your day early to avoid the afternoon heat and to increase your chances of seeing the Andean condor, which is most active in the morning.
Try local cuisine: Arequipa is known for its delicious regional cuisine. Be sure to sample dishes like rocoto relleno (stuffed spicy pepper), chupe de camarones (shrimp soup), and queso helado (a traditional ice cream-like dessert).
Learn about volcanic stone architecture: Arequipa's unique architecture, made from white volcanic sillar stone, is a highlight of the region. Visit the Monastery of Santa Catalina and other historic sites to learn more about this distinctive building style and the city's rich history.
Use a registered guide for trekking: If you're planning to trek in the Colca Canyon or surrounding areas, use a registered guide or tour operator to ensure a safe and responsible experience. They can help you navigate the terrain, provide information about the local flora and fauna, and share insights into the region's culture.
Practice responsible tourism: Respect the environment, local customs, and cultural heritage during your visit. This includes following guidelines for waste disposal, staying on marked trails, and seeking permission before taking photos of local people.
Carry cash and small change: While credit cards are accepted at many establishments in Arequipa city, smaller towns and rural areas often only accept cash. Keep a supply of small bills and coins for transactions in these areas and to tip service providers, such as tour guides and drivers.
🌎 Arequipa Travel Blog
No posts
🚦 Getting around Arequipa
Public buses: In the city of Arequipa, public buses are a cost-effective and widely used means of transportation. They cover most parts of the city and surrounding areas. However, they can be crowded and may not be the most comfortable option for some travelers.
Colectivos: These shared vans or minivans operate on specific routes and are an efficient and affordable way to travel between towns and villages within the Arequipa region. Colectivos can be found at designated stops or terminals in Arequipa city and other major towns.
Taxis: Taxis are readily available in Arequipa city and can be a convenient way to travel short distances or when public transportation is not available. It is advisable to use registered taxis and negotiate the fare before starting your trip, as not all taxis have meters.
Private car rental: Renting a car offers the most flexibility for exploring the region at your own pace. Several car rental agencies operate in Arequipa, and a valid driver's license and an international driving permit are usually required. Keep in mind that driving conditions in some areas can be challenging, and a four-wheel-drive vehicle may be necessary for certain routes.
Organized tours: For those who prefer a more structured and hassle-free experience, there are various tour operators in Arequipa that offer a range of options, from half-day city tours to multi-day excursions to the Colca Canyon and other attractions in the region. Organized tours often include transportation, a guide, and sometimes meals and accommodation, depending on the package.
Trekking or hiking: The Arequipa region is home to numerous trekking and hiking opportunities, such as exploring the Colca Canyon or visiting remote villages. For some routes, it's essential to hire a guide, while others can be done independently. Be sure to research the specific trek and prepare adequately with appropriate gear, supplies, and knowledge of the area.
Biking: For the more adventurous traveler, cycling is an excellent way to explore the Arequipa region. Bikes can be rented from local shops, and there are various routes suitable for different skill levels. Guided biking tours are also available for those who prefer a more structured experience.
☀️ The best time to visit Arequipa
The best months to visit the Arequipa region for great weather are from May to October. This period corresponds to the dry season, which is characterized by sunny days, clear skies, and mild temperatures. The pleasant weather during these months makes it ideal for outdoor activities and sightseeing, such as exploring the city of Arequipa, trekking in the Colca Canyon, or visiting the region's traditional villages. Keep in mind that even during the dry season, temperatures can vary greatly between day and night, so it's essential to pack the appropriate clothing to stay comfortable throughout your visit.
The cheapest months to visit Arequipa typically coincide with the rainy season, which lasts from November to April. During this time, you can expect more frequent rain showers, overcast skies, and cooler temperatures. However, the region's natural beauty remains on display, with vibrant green landscapes and fewer crowds at popular sites. With lower demand for accommodations and tours during the off-season, you'll find reduced prices and better availability, making it a more budget-friendly option for travelers who don't mind the possibility of encountering rain. If you're looking for a balance between affordability and favorable weather, consider visiting Arequipa during the shoulder months of April or November, when there is usually less rainfall than at the peak of the rainy season, and prices are generally lower than during the dry season.
📅 Arequipa weather by month
January in Arequipa
Traveling to Arequipa in January means experiencing the wet season, with frequent rain showers and cloudy skies. Temperatures typically range between 6°C (43°F) at night and 22°C (72°F) during the day. Humidity levels can reach 60% to 80%. Despite the rain, January is a great time to visit the region, as it hosts the annual Foundation of Arequipa Festival, which celebrates the city's founding with parades, cultural events, and street fairs.
February in Arequipa
February continues the wet season in Arequipa, with temperatures remaining similar to January, averaging between 6°C (43°F) at night and 22°C (72°F) during the day. Humidity levels can still reach 60% to 80%. Although there are no major festivals in February, the city's vibrant atmosphere continues with fewer tourists, providing a more authentic experience of daily life in Arequipa.
March in Arequipa
March marks the end of the wet season in Arequipa, with gradually decreasing rainfall. Temperatures range from 6°C (43°F) at night to 22°C (72°F) during the day, with humidity levels starting to decline as well. The annual Vendimia Festival takes place in the nearby Ica region during this month, celebrating the grape harvest with wine tastings, music, and dancing.
April in Arequipa
April brings the beginning of the dry season in Arequipa, with clearer skies and less rainfall. Temperatures remain relatively stable, with lows around 6°C (43°F) and highs around 22°C (72°F). Humidity levels continue to decrease, making it a more comfortable time to explore the region. While there are no major festivals in April, it's an ideal time for outdoor activities such as hiking and exploring the Colca Canyon.
May in Arequipa
May is an excellent time to visit Arequipa, as the weather is pleasant, with temperatures ranging between 5°C (41°F) at night and 21°C (70°F) during the day. The dry season continues, and humidity levels remain low. May is also the month of the Fiesta de las Cruces (Festival of the Crosses), a religious celebration featuring colorful processions and traditional music throughout the city.
June in Arequipa
June is a popular month for visiting Arequipa, with temperatures ranging from 4°C (39°F) at night to 21°C (70°F) during the day. The dry season is in full swing, offering clear skies and minimal rainfall, making it perfect for outdoor exploration. Humidity levels remain low, ensuring comfortable sightseeing conditions. Although there are no major festivals in June, this month is ideal for visiting nearby attractions such as the Colca Canyon and exploring the city's historic sites.
July in Arequipa
July is another excellent month to visit Arequipa, with temperatures averaging between 4°C (39°F) at night and 21°C (70°F) during the day. The weather is generally sunny and dry, with low humidity levels. Arequipa celebrates Peru's Independence Day on July 28th, with parades, concerts, and various cultural events taking place throughout the city.
August in Arequipa
In August, Arequipa experiences similar weather conditions to July, with temperatures ranging from 4°C (39°F) at night to 21°C (70°F) during the day. The dry season continues, providing clear skies and low humidity levels. August 15th is the annual celebration of Arequipa's patron saint, the Virgen de la Asunción, with religious processions, fireworks, and traditional dances taking place throughout the city.
September in Arequipa
September marks the beginning of the transition from the dry to the wet season in Arequipa. Temperatures remain relatively stable, with lows around 5°C (41°F) and highs around 21°C (70°F). Rainfall begins to increase, but humidity levels remain manageable. There are no major festivals in September, but it's still an excellent time for outdoor activities and exploring the city's attractions.
October in Arequipa
October brings slightly warmer temperatures to Arequipa, with lows around 6°C (43°F) and highs around 22°C (72°F). Rainfall continues to increase as the wet season approaches, and humidity levels begin to rise. Despite the changing weather, October is still a good time for sightseeing and taking advantage of the region's natural beauty.
November in Arequipa
November sees a further increase in rainfall and humidity in Arequipa, with temperatures ranging from 6°C (43°F) at night to 22°C (72°F) during the day. The wet season is approaching, but there are still many sunny days suitable for exploring the city and its surroundings. There are no major festivals in November, but the city remains vibrant with cultural events and activities.
December in Arequipa
December marks the beginning of the wet season in Arequipa, with temperatures between 6°C (43°F) at night and 22°C (72°F) during the day. Rainfall becomes more frequent, and humidity levels rise. Despite the wetter conditions, December is still a great time to visit Arequipa, as it hosts the Christmas and New Year celebrations. The city comes alive with festive decorations, and various events take place throughout the month, making it a unique and enjoyable time to experience Arequipa's local culture.
AREQUIPA TOURS
We customize Arequipa tours!
We live here and have traveled the region of Arequipa. Get in touch with us by sending a Whatsapp message to +52 473 171 5259 to get a quote. No hidden costs, just simple prices.
📍 Places to visit in Arequipa
Santa Catalina Monastery: This 16th-century convent spans an entire city block and is famous for its colorful architecture, courtyards, and unique history. A guided tour offers insight into the lives of the nuns who once resided here.
Colca Canyon: One of the world's deepest canyons, Colca Canyon boasts stunning landscapes, traditional villages, and the opportunity to spot the majestic Andean condor. Popular activities include hiking, birdwatching, and soaking in nearby hot springs.
Plaza de Armas: The main square of Arequipa, surrounded by impressive colonial buildings, including the Basilica Cathedral and the city's municipality. It's a perfect place to relax, people-watch, and absorb the local atmosphere.
Basilica Cathedral of Arequipa: A stunning 17th-century cathedral overlooking the Plaza de Armas, featuring beautiful architecture, religious art, and a museum. Don't miss the view from the cathedral's bell tower.
San Camilo Market: A bustling, authentic market where you can find a variety of local produce, traditional dishes, and handmade crafts. It's an excellent opportunity to experience the daily life of Arequipa's residents.
La Compañía Church and Cloisters: A beautiful 18th-century church and cloister complex, famous for its intricately carved façade and gilded interior. The attached art gallery showcases religious art from the Cusco School.
Yanahuara Viewpoint and District: This charming neighborhood features narrow cobblestone streets, traditional houses, and a picturesque plaza. The Yanahuara Viewpoint offers panoramic views of the city and the surrounding volcanoes.
Mundo Alpaca: A unique attraction dedicated to the production of high-quality alpaca textiles. Visitors can learn about the process, interact with live alpacas, and shop for clothing and souvenirs made from their luxurious fiber.
Sachaca District and Viewpoint: A quaint district known for its white sillar stone buildings, and the Mirador de Sachaca, which offers sweeping views of Arequipa and the surrounding countryside.
Molino de Sabandía: A beautifully restored 17th-century water mill located in a picturesque rural setting. The grounds are perfect for a leisurely stroll, a picnic, or horseback riding.
Salinas y Aguada Blanca National Reserve: A protected area encompassing Andean landscapes, wetlands, and home to various wildlife species, including vicuñas, flamingos, and Andean condors.
Chivay and La Calera Hot Springs: The town of Chivay serves as a gateway to the Colca Canyon and offers several thermal baths to relax and rejuvenate after a day of exploring.
Volcano Misti: The iconic volcano that towers over Arequipa is a popular destination for adventurous hikers seeking a challenging summit experience and incredible views.
Cotahuasi Canyon: Another impressive canyon located in the region, Cotahuasi is less visited than Colca Canyon but offers equally stunning scenery, traditional villages, and various trekking routes.
Sillar Route: A guided tour along this route will introduce visitors to the region's distinctive sillar stone architecture and the history behind the quarries where the stone is extracted. The tour includes a visit to the quarries and several historical sites built with sillar.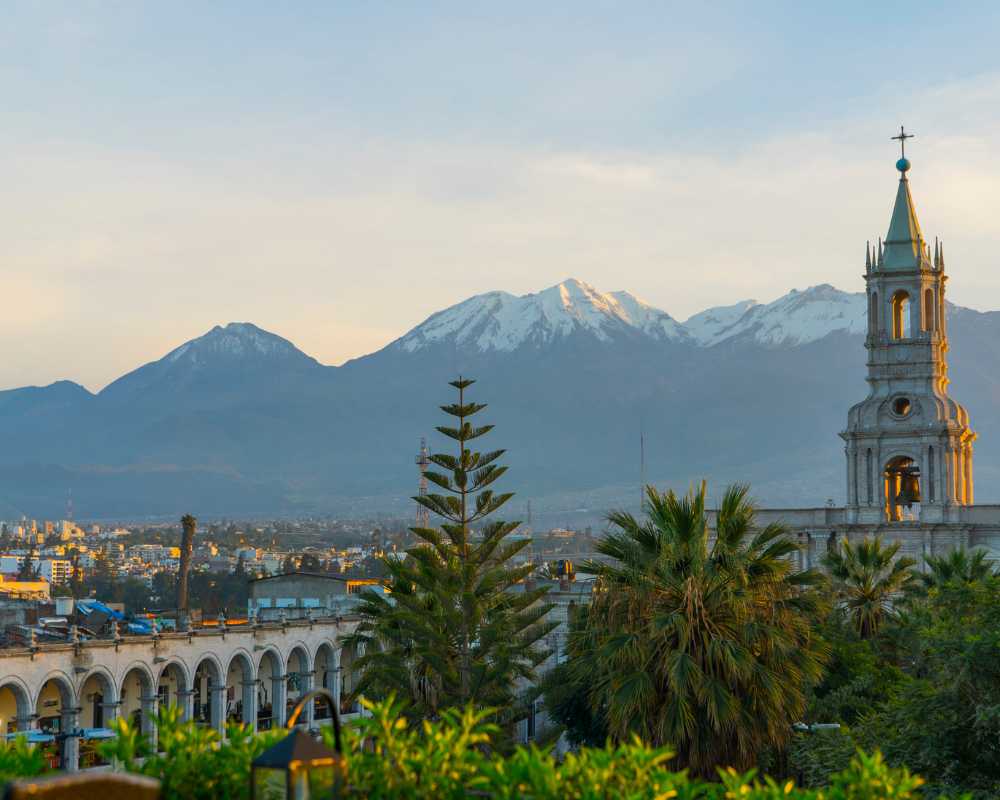 🏖️ Top things to do in Arequipa
Explore the historic center of Arequipa: Wander through the narrow streets and admire the impressive colonial architecture, including buildings made from the region's iconic white sillar stone. Visit the city's numerous churches, museums, and art galleries to learn more about its rich history and culture.
Visit Santa Catalina Monastery: Take a guided tour of this stunning 16th-century convent, which features a maze of colorful courtyards, picturesque streets, and fascinating insights into the lives of the nuns who once lived there.
Trek the Colca Canyon: Embark on a multi-day trek through one of the world's deepest canyons, where you'll encounter breathtaking landscapes, traditional Andean villages, and the opportunity to spot the magnificent Andean condor soaring overhead.
Relax at La Calera Hot Springs: After a long day of exploring, soak in the soothing waters of La Calera Hot Springs, located near the town of Chivay, which serves as the gateway to the Colca Canyon.
Sample traditional Arequipa cuisine: Treat your taste buds to the region's delicious dishes, such as rocoto relleno (stuffed spicy pepper), chupe de camarones (shrimp soup), and queso helado (a traditional ice cream-like dessert).
Visit the Salinas y Aguada Blanca National Reserve: Discover the unique landscapes and diverse wildlife of this protected area, including vicuñas, flamingos, and Andean condors. Enjoy outdoor activities such as hiking, birdwatching, or photography.
Climb Volcano Misti: For the more adventurous traveler, tackle the challenging ascent of Misti, Arequipa's iconic volcano. Be rewarded with stunning panoramic views of the city and surrounding countryside from the summit.
Explore the Sillar Route: Learn about the region's distinctive sillar stone architecture and the history behind the quarries where the stone is extracted. A guided tour will take you to various historical sites built with sillar, as well as the quarries themselves.
Stroll through San Camilo Market: Immerse yourself in the local culture by visiting this bustling market, where you can find a variety of fresh produce, traditional dishes, and handmade crafts.
Visit the Yanahuara District and Viewpoint: Discover the charming cobblestone streets and traditional houses of this picturesque neighborhood, and take in the stunning views of Arequipa and its surrounding volcanoes from the Yanahuara Viewpoint.
🍲 Food from Arequipa: what to eat
Rocoto Relleno: This iconic Arequipa dish features a rocoto pepper, a spicy red pepper native to the region, stuffed with a mixture of minced meat, onions, garlic, olives, raisins, and spices. The pepper is then topped with cheese and baked, resulting in a delicious and flavorful dish.
Chupe de Camarones: A hearty shrimp soup made with a rich broth that includes tomatoes, onions, garlic, and aji panca (Peruvian red chili). The dish is typically served with rice, corn, potatoes, a poached egg, and fresh herbs.
Adobo Arequipeño: A succulent pork stew marinated in a mix of chicha de jora (fermented corn beverage), aji panca, garlic, and spices. The dish is traditionally cooked in a clay pot and served with bread or rice.
Queso Helado: Despite its name, which translates to "frozen cheese," this dessert does not contain any cheese. It is a traditional ice cream-like treat made from sweetened milk, cinnamon, and cloves, which is then frozen and served in scoops.
Solterito: A refreshing salad made from boiled fava beans, tomatoes, onions, olives, cheese, and rocoto pepper. It is typically seasoned with salt, pepper, and a dressing made from vinegar and oil.
Cuy Chactado: A popular dish in the Andean region of Peru, cuy chactado features a whole guinea pig that is marinated in a mix of spices, flattened, and deep-fried until crispy. It is usually served with potatoes and a salad.
Ocopa Arequipeña: A cold appetizer made from boiled potatoes covered in a creamy sauce made from aji amarillo (Peruvian yellow chili), huacatay (Peruvian black mint), peanuts, and fresh cheese. The dish is typically garnished with olives, lettuce, and hard-boiled eggs.
Pastel de Papa: A baked dish made from layers of thinly sliced potatoes, minced meat, onions, tomatoes, and spices, similar to a potato gratin. The dish is typically topped with cheese and baked until golden and bubbly.
Lechón al Horno: A festive dish that features a whole suckling pig marinated in a mix of spices and herbs, then slow-roasted in an oven or over an open fire. The result is a tender, flavorful meat with a crispy skin, usually served with rice and a simple salad.
Sopa Teóloga: A traditional soup made from a flavorful broth containing chicken, beef, or both, along with vegetables such as corn, peas, and carrots. It is served with a slice of soaked bread and garnished with fresh herbs, making it a comforting and satisfying meal.
🛏️ Arequipa Hotels & Accommodations
Hostels: Hostels are a popular and budget-friendly option for travelers in Arequipa. They typically offer dormitory-style rooms with shared facilities, such as bathrooms and kitchens. Some hostels also provide private rooms at a higher price. Hostels in Arequipa usually range from $8 to $20 per night, depending on the location, amenities, and room type.
Guesthouses and B&Bs: Guesthouses and bed & breakfast establishments provide a more intimate and cozy experience. They are often family-owned and operated, with personalized service and a welcoming atmosphere. These accommodations usually offer private rooms with en-suite bathrooms, and may include breakfast as part of the nightly rate. Prices for guesthouses and B&Bs in Arequipa typically range from $20 to $50 per night.
Hotels: Hotels in Arequipa cater to a wide range of budgets and preferences. You can find budget hotels with basic amenities, as well as mid-range and luxury hotels offering more comfort and services such as swimming pools, restaurants, and fitness centers. Budget hotels can start from around $20 per night, while mid-range hotels can range from $50 to $100 per night, and luxury hotels can go from $100 to $300 per night or more.
Boutique hotels: Boutique hotels in Arequipa offer a unique and stylish accommodation experience, often set in charming historic buildings or featuring distinctive design elements. These hotels typically provide a more personalized service and a high level of comfort, with luxurious rooms and upscale amenities. Prices for boutique hotels in Arequipa can range from $80 to $250 per night, depending on the property and location.
Apartment rentals: For those looking for more privacy and the comforts of home, apartment rentals are a great option. These accommodations usually come with fully-equipped kitchens, separate living areas, and multiple bedrooms, making them ideal for families or groups of friends. Prices for apartment rentals in Arequipa vary depending on the size, location, and amenities, but can range from $30 to $100 per night or more.
Homestays: Homestays provide an authentic experience of local culture, as travelers stay with a local family in their home. This type of accommodation allows for a more immersive experience, with the opportunity to learn about daily life in Arequipa and enjoy home-cooked meals. Prices for homestays can vary widely, from $15 to $50 per night, depending on the location and level of comfort provided.
💵 Cost of travel to Arequipa
Accommodation prices
The cost of accommodation in Arequipa, Peru varies depending on the type of lodging you choose. For budget travelers, dorm rooms in hostels can be found for as low as $6 to $12 per night. Mid-range hotels offer private rooms starting from $30 to $60 per night, while upscale hotels and boutique accommodations can range from $70 to $150 or more per night. It is worth noting that prices may increase during peak tourist seasons, so booking in advance is recommended to secure the best deals.
Food prices
Food prices in Arequipa are generally affordable, offering a range of options to suit different budgets. Street food and local markets are the most economical options, where you can find meals for $1 to $3. Mid-range restaurants typically charge between $5 and $10 for a meal, while high-end establishments can cost upwards of $15 to $30 per person. Keep in mind that tipping is customary in Peru, with a standard 10% being added to your bill in most restaurants.
Tours prices
Arequipa offers a variety of tours and activities for tourists, with prices varying based on the duration and type of experience. A half-day city tour can cost between $15 and $30 per person, while full-day tours to the surrounding countryside or nearby attractions like the Colca Canyon can range from $50 to $100. More adventurous activities, such as multi-day treks or mountain climbing, can cost upwards of $150 to $400, depending on the level of service and equipment provided.
Transportation costs
Transportation costs in Arequipa are quite reasonable, with various options available to suit different preferences and budgets. Local buses are the most affordable means of transport, costing around $0.30 per ride. Taxis and rideshare services like Uber are more convenient, with fares typically ranging from $2 to $10 depending on the distance. If you're planning to explore the region further, intercity buses are available at prices starting from $5 for short distances and up to $30 or more for longer trips. Car rentals are another option, with daily rates beginning at around $30 for a basic vehicle, plus the cost of fuel and insurance.
🏧 ATMs, credit cards, and more!
ATM withdrawals
ATM withdrawals are widely available in Arequipa, with numerous banks and machines scattered throughout the city. While there aren't any specific Mexican banks in Arequipa, some of the most reliable banks for international withdrawals include Scotiabank, BBVA, and BCP. These banks generally offer better exchange rates and lower fees compared to smaller, local banks. It's recommended to withdraw in the local currency (Peruvian Soles) and to inform your bank of your travel plans to avoid any issues with your transactions.
Using credit cards
Credit cards are accepted in most places in Arequipa, especially in hotels, restaurants, and tourist attractions. Visa and Mastercard are the most widely accepted cards, with American Express and Diners Club being less common but still usable in some establishments. It's essential to carry some cash, as smaller businesses and street vendors may not accept credit cards. Additionally, it's a good idea to have a backup card and be aware of any foreign transaction fees your card issuer may charge.
Currency exchange
The best way to exchange money in Arequipa is through banks or authorized currency exchange offices (Casas de Cambio). These establishments usually offer competitive exchange rates and charge lower fees compared to exchanging money at airports or hotels. It's essential to bring crisp, undamaged US Dollar bills, as some places may refuse to accept worn or torn notes. It's also recommended to exchange only what you need for your stay, as converting back to your home currency may result in additional fees and unfavorable exchange rates.
Tipping culture
Tipping is customary in Peru, especially in the service industry. In most restaurants, a 10% tip is expected and sometimes automatically added to the bill. If it's not included, you can leave a cash tip of around 10% based on the quality of service. For other services such as tour guides, taxi drivers, and hotel staff, tipping is appreciated but not mandatory. For example, you can tip a tour guide around $5 to $10 per day, while a small tip of $1 to $2 is sufficient for hotel staff and taxi drivers for short rides. Remember that tipping is a way to show appreciation for good service, so feel free to adjust the amount based on your experience.
🤑 Arequipa Money-Saving Tips
Visit during the off-peak season: Traveling to Arequipa during the low season (December to March) can result in lower prices for accommodation, tours, and transportation. Keep in mind that this period coincides with the rainy season, so be prepared for occasional showers and pack accordingly.
Use local transportation: Instead of relying on taxis or private transfers, consider using local buses, which are significantly cheaper. This will not only save you money but also provide an authentic experience of daily life in Arequipa.
Take advantage of free attractions: Many attractions in Arequipa, such as the main square, the Yanahuara viewpoint, or the San Lazaro neighborhood, are free to visit. Plan your itinerary to include these budget-friendly sites.
Eat at local markets and street vendors: Save on food expenses by eating at local markets, street vendors, or "menu del día" establishments, which offer affordable set meals. This will allow you to sample traditional Peruvian dishes at a fraction of the cost of dining at restaurants.
Book group tours: Instead of booking private tours, opt for group tours to share the cost with other travelers. This can significantly reduce the price per person and help you save on your overall travel budget.
Negotiate prices: In some situations, such as at markets or with taxi drivers, it's acceptable to negotiate prices. Polite haggling can help you save money on purchases and services.
Stay in budget accommodations: Choose budget-friendly lodging options, such as hostels or guesthouses, over more expensive hotels. These accommodations often have shared amenities, like kitchens, which can help you save on food expenses as well.
Use a refillable water bottle: To save money and reduce plastic waste, carry a refillable water bottle and refill it at safe water sources or with purified water. Some hostels and hotels may provide filtered water stations for guests.
Plan ahead for activities and transportation: Research and book activities and transportation in advance, as you may find better deals and discounts online. Keep an eye out for promotions and packages that bundle multiple attractions or services.
Travel with a group or share expenses: If possible, travel with friends or family to share the costs of accommodation, transportation, and other expenses. Alternatively, consider joining up with fellow travelers you meet along the way to share costs and experiences.
Altitude awareness: Arequipa is located at an elevation of about 2,335 meters (7,661 feet) above sea level. Be aware of the potential for altitude sickness and give your body time to acclimate. Symptoms can include headaches, nausea, and dizziness. To prevent altitude sickness, stay well-hydrated, avoid excessive alcohol consumption, and consider taking altitude sickness medication if recommended by a doctor.
Earthquake preparedness: Arequipa is located in an earthquake-prone region. Familiarize yourself with earthquake safety measures, such as finding sturdy cover, and avoiding windows or heavy objects during a tremor. Review your accommodation's evacuation plan and keep a small emergency kit with you.
Volcano safety: Arequipa is surrounded by volcanoes, including the active Misti Volcano. Stay informed about any volcanic activity or alerts during your visit and follow local authorities' guidance in case of any emergencies.
Food and water precautions: To avoid stomach issues, stick to bottled or purified water, and avoid consuming tap water, ice, or uncooked fruits and vegetables washed with tap water. Be cautious when eating street food and choose vendors that appear to have high turnover and clean preparation areas.
Dress appropriately: Dress modestly and respectfully, particularly when visiting religious sites or rural areas. This will help you avoid unwanted attention and show respect for local customs.
Secure your belongings: Petty theft can occur in tourist areas, so keep your belongings secure. Use a money belt or hidden pouch for important documents and cash, and don't leave your bags unattended or flaunt valuable items.
Use registered taxis: To ensure safety and fair pricing, use registered taxi services or rideshare apps like Uber. Avoid unmarked or informal taxis, which may not be regulated or insured.
Be cautious with stray animals: Stray dogs are common in Arequipa and may carry diseases such as rabies. Avoid contact with stray animals and seek medical attention immediately if bitten or scratched.
Sun protection: The sun can be intense at high altitudes, so apply sunscreen regularly, wear a hat, and use sunglasses to protect your eyes. Staying hydrated is also crucial to prevent sunstroke.
Learn basic Spanish phrases: While English is spoken in many tourist areas, having a basic understanding of Spanish can be helpful in emergencies or less touristy areas. Knowing simple phrases can help you communicate with locals, ask for directions, or seek help if needed.
⁉️ FAQ: Arequipa Travel Guide