Machu Picchu from Lima is quite a long way but with Peru's efficient transportation system, it is a common route. Here's a step-by-step guide on how to get to Machu Picchu from Lima.
Machu Picchu, the mystical crown jewel of the Incan Empire, beckons travelers from all corners of the globe.
Perched high in the Andean mountains, this ancient citadel's enigmatic stone structures and terraces whisper tales of a bygone era.
But before you immerse in its historical allure, there's the journey of getting there—a voyage starting from Peru's coastal capital, Lima.
Traversing through diverse landscapes, from Lima's bustling urban sprawl to Cusco's charming colonial streets, and finally the dense green corridors leading to Machu Picchu, each step is an adventure in itself.
This how to get to Machu Picchu from Lima guide is your compass, charting the course from Lima's vibrant neighborhoods to the tranquil aura of the Lost City.
See also: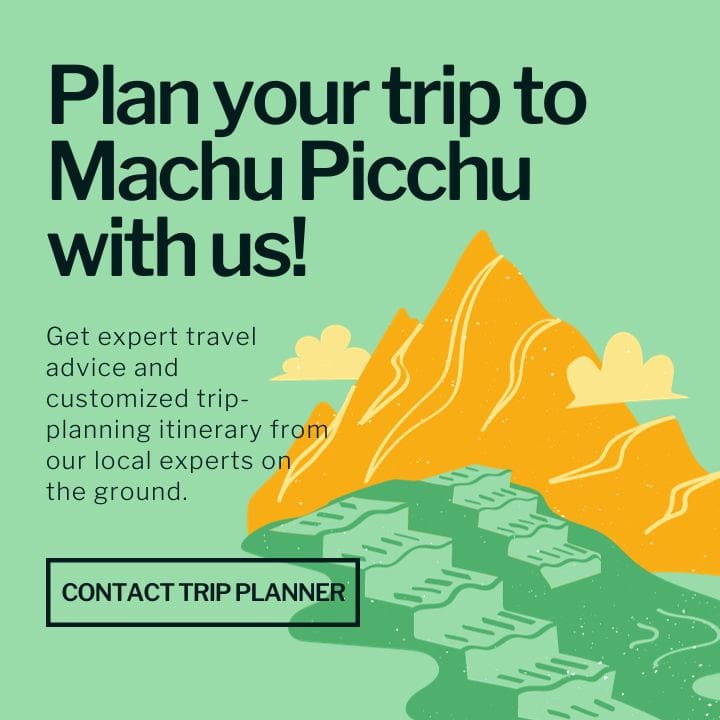 🧭 How do I get to Machu Picchu from Lima?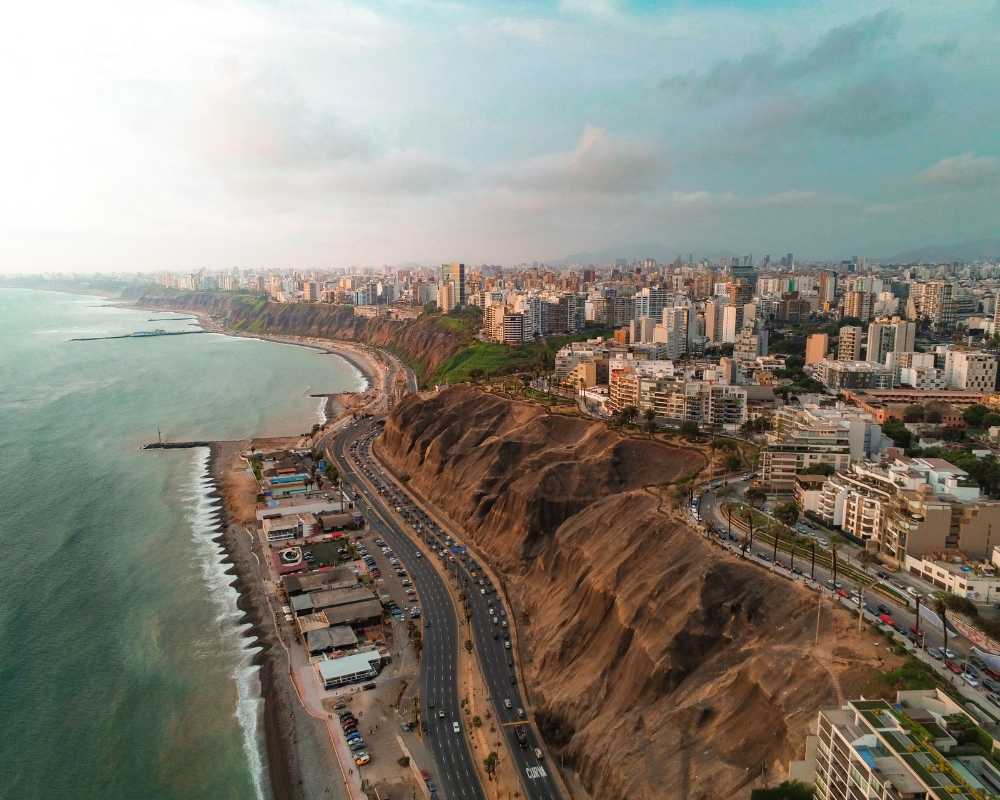 To get to Machu Picchu from Lima, you need to do the following steps:
Step 1: Get to Cusco via flight or bus. Flight takes 1.5 hours while the bus will take 25 hours.
Step 2: Stay in Cusco to acclimatize. 3 days is a great time. Cusco is an amazing city so don't just skip it!
Step 3: Buy your Machu Picchu tickets or purchase a tour in Cusco. You MUST do this while in Cusco as it will be challenging to get them once you are out of Cusco.
Step 4: Get to Aguascalientes from Cusco
Step 5: Stay the night in Aguascalientes and prepare for your hike to Machu Picchu
Step 6: Hike up to Machu Picchu from Aguascalientes or take the bus. Your choice!
Is there a train to Machu Picchu from Lima?
No, there is no direct train from Lima to Machu Picchu. To get to Machu Picchu by train, you would typically follow this route:
Fly or Drive from Lima to Cusco: The majority of travelers choose to fly, which takes about 1.5 hours.
Travel from Cusco to Ollantaytambo or Poroy: This can be done by taxi, bus, or a shared van. Ollantaytambo is a more common starting point for the train journey and is about 1.5 to 2 hours away from Cusco by road. Poroy is closer to Cusco but has fewer train departures.
Train from Ollantaytambo or Poroy to Aguas Calientes (Machu Picchu Pueblo): This is the town at the base of the mountain where Machu Picchu is located. The train ride from Ollantaytambo takes about 1.5 to 2 hours. From Poroy, it's roughly 3 hours.
From Aguas Calientes: You can then take a bus or hike up to Machu Picchu.
Can you go to Machu Picchu from Lima by car?
You cannot drive directly to Machu Picchu, as there are no roads leading to the archaeological site itself or to Aguas Calientes (Machu Picchu Pueblo), the town at the base of the mountain where Machu Picchu is located.
However, you can drive a portion of the journey from Lima towards the Sacred Valley, which gets you closer to Machu Picchu. Here's a rough breakdown:
Drive from Lima to Cusco: This journey is approximately 1,100 kilometers (around 680 miles) and can take 20 hours or more, depending on road conditions and stops along the way. The route crosses diverse landscapes, from coastal desert to high Andean mountain passes.
Drive from Cusco to Ollantaytambo: From Cusco, you can continue driving to the town of Ollantaytambo in the Sacred Valley, which takes about 1.5 to 2 hours.
From Ollantaytambo: You would then need to take a train to Aguas Calientes (Machu Picchu Pueblo). There's no road access beyond this point for private vehicles towards Machu Picchu.
From Aguas Calientes: Once in Aguas Calientes, you can either hike or take a bus up to Machu Picchu.
While it's technically possible to drive a large portion of the way from Lima to the vicinity of Machu Picchu, it is easier to fly or use other means of transportation because.
This is a long way with long driving hours, potential challenges of high-altitude driving, and the need to switch to train transportation for the final leg of the journey.
🗺️ Machu Picchu from Lima Map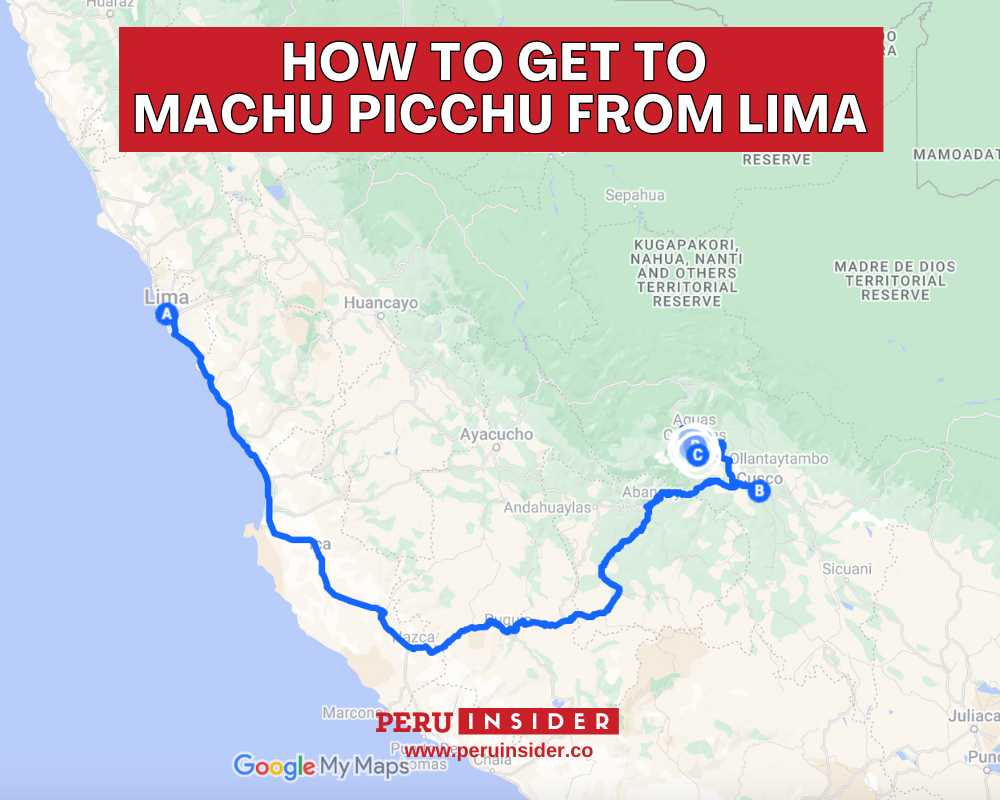 This map shows the complete route to Machu Picchu from Lima. Open it on Google Maps and save it on your phone for future reference.
✈️ Machu Picchu from Lima Step 1: Get to Cusco
Machu Picchu's mystique beckons travelers from all corners of the world, but to get there, your journey often begins in Lima, the capital city of Peru, and proceeds to Cusco, the closest major city to the ancient Incan citadel.
Whether you're after comfort, speed, or an adventure on its own, there are two main ways to get from Lima to Cusco: by air or by bus.
Flights from Lima to Cusco
Flying is the quickest and most popular option for many travelers, thanks to the relative efficiency and time-saving benefits.
Several airlines fly between Lima and Cusco, including LATAM, Avianca, Sky Airline, and Viva Air.
Always check schedules in advance, as flights and airlines might change based on seasonal demands and other factors.
The direct flight between Lima and Cusco typically takes about 1 hour and 20 minutes. However, remember that this doesn't account for time spent at the airport for check-in, security, and boarding.
Flight prices can surge, especially during peak tourist season. It's advisable to book your tickets well in advance.
Due to Cusco's geographical location, morning flights tend to experience fewer weather-related delays than afternoon ones.
Be aware of baggage policies, especially if you're traveling with hiking gear.
Bus from Lima to Cusco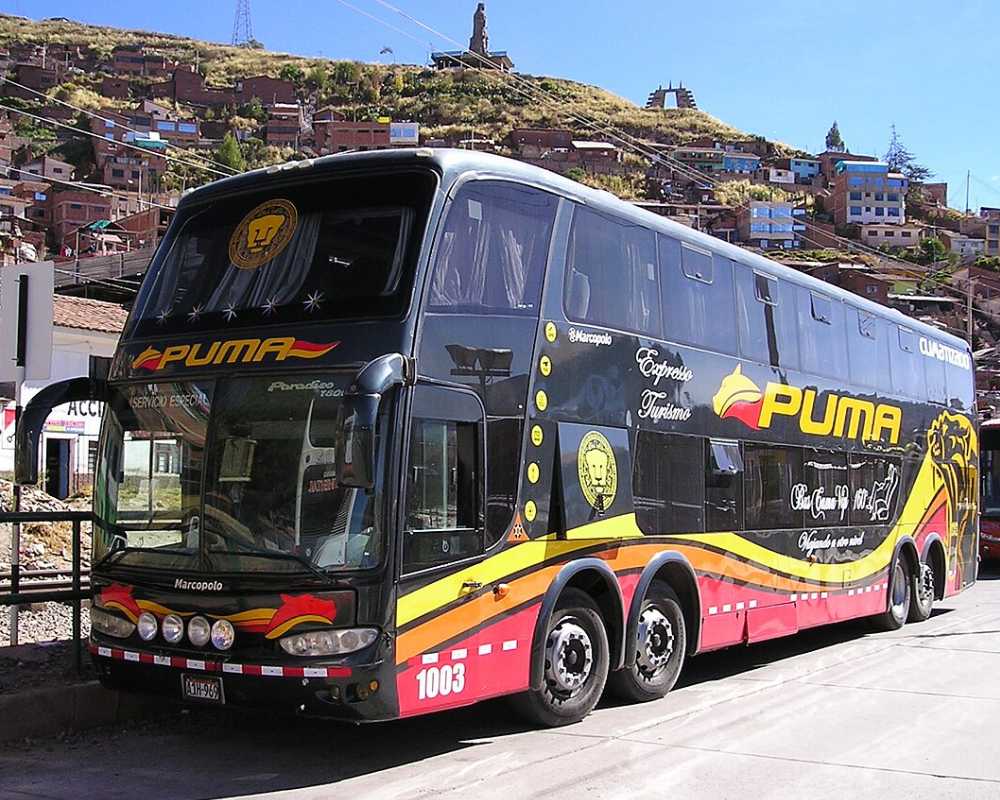 For the more budget-conscious traveler or those seeking a road adventure, buses offer a scenic route through the Andes.
Popular and reputable bus companies include Cruz del Sur, Oltursa, Civa, and Tepsa.
The bus journey from Lima to Cusco takes approximately 21 to 25 hours, depending on traffic and road conditions. Prices can vary based on the service class and bus company but generally range from $30 to $70 USD.
Pros of taking the bust from Lima to Cusco
Scenic Views: The route offers stunning views of the Andes.
Cost-Effective: Generally cheaper than flying, especially if booked last minute.
Cons of taking the bust from Lima to Cusco
Duration: The journey is lengthy, taking almost a full day.
Comfort: While VIP or luxury classes offer more comfort, it might not match up to the standards some travelers are used to.
Safety: Road conditions can be challenging, especially in rainy seasons. Always choose reputable bus companies and check reviews.
💫 Machu Picchu from Lima Step 2: Acclimatization in Cusco
Cusco, once the capital of the Inca Empire, today stands as a unique blend of ancient Andean culture and Spanish colonial influences.
As the main gateway to Machu Picchu, it sees an influx of visitors from around the globe.
Whether you're here for a night before trekking the Inca Trail or planning a longer stay to soak in the city's magic, Cusco offers a range of accommodations, experiences, and sights to make your visit memorable.
Cusco's rich history and tourist appeal have given rise to a variety of lodging options catering to different preferences and budgets.
Where to stay in Cusco
For the thrifty traveler, Cusco has a plethora of hostels and budget hotels, many of which are located in historic colonial buildings.
Our recommended options include Pariwana Hostel, Kokopelli Hostel, and Milhouse Hostel
These accommodations offer a comfortable stay with more amenities, often in the heart of the city. Some popular choices are Tierra Viva Cusco Centro, Rumi Wasi or Tandapata Boutique Hotel
For those seeking a lavish experience, Cusco doesn't disappoint. From boutique hotels set in colonial mansions to upscale resorts, indulge in luxury at places like:
Palacio del Inka, a Luxury Collection Hotel
Belmond Hotel Monasterio
JW Marriott El Convento Cusco
Acclimatizing to the altitude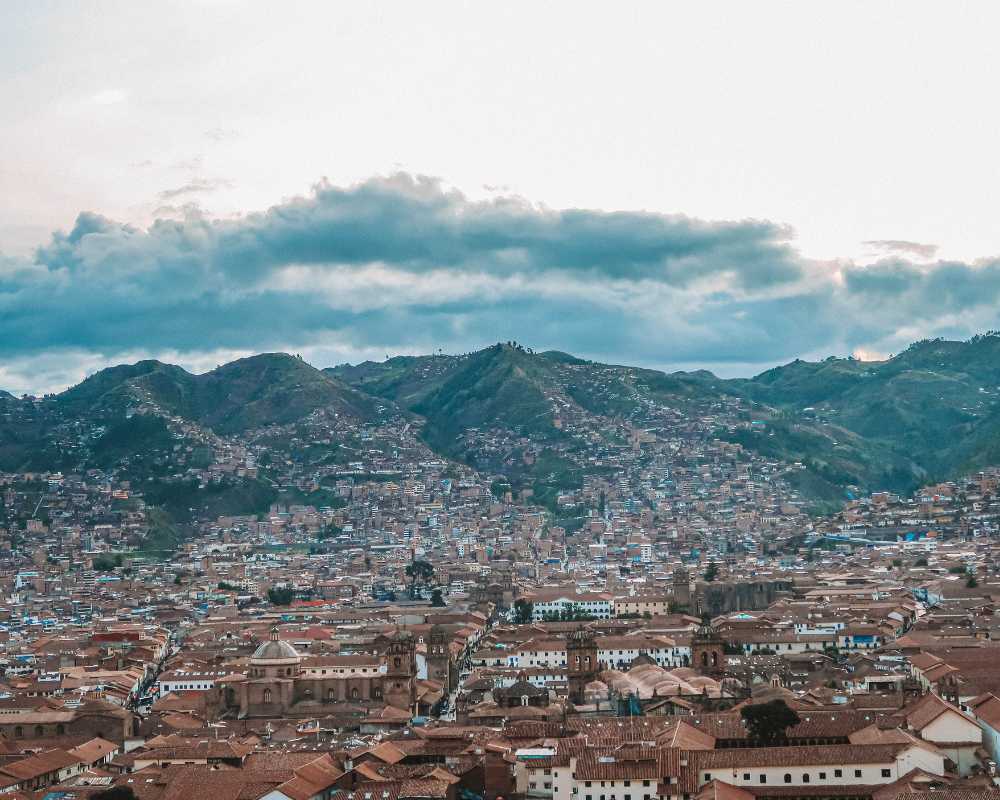 Sitting at an altitude of roughly 3,400 meters (11,200 ft), Cusco's elevation can be a challenge for many visitors. Some tips for acclimatization include:
Dedicate your first day to relaxation. Avoid strenuous activities. Drink plenty of water to help your body adjust!
Also try the coca tea which you will find everywhere in Cusco. This local remedy, made from coca leaves, is believed to help alleviate altitude sickness symptoms.
Things to do in Cusco
The heart of the ancient Inca Empire is teeming with architectural wonders, vibrant markets, and serene plazas. Some highlights include:
Plaza de Armas: Cusco's main square, surrounded by colonial buildings and the impressive Cusco Cathedral.
Sacsayhuamán: A colossal Inca fortress with intricate stone constructions.
San Blas: A bohemian neighborhood with narrow alleys, artisans, and panoramic views of the city.
Qorikancha: The ancient Incan temple of the sun, which stands beneath the Santo Domingo Convent.
San Pedro Market: A bustling local market where you can sample Peruvian delicacies, buy souvenirs, and soak in the local atmosphere.
🎟️ Machu Picchu from Lima Step 3: Buy entrance tickets
Due to its immense popularity and the efforts to preserve the site, entry to Machu Picchu is regulated, and the number of daily visitors is limited.
As a result, it is recommended to purchase tickets well in advance, especially during peak tourist season.
Purchasing tickets for Machu Picchu
The most straightforward method is to purchase tickets through the official website of the Ministry of Culture (Machu Picchu's Official Ticket Sales).
Here you can check availability for specific dates and choose your preferred time slot. Here are the steps to purchase your Machu Picchu tickets online:
Select the date and session you prefer
Fill in personal details
Make the payment using an international credit or debit card.
Upon successful payment, print the electronic ticket or save it on a mobile device for entrance.
Many travel agencies, especially those that offer guided tours, can also assist with purchasing Machu Picchu tickets. This is a convenient option for those who prefer a packaged experience.
While online booking is recommended, tickets can also be bought in person in a few locations.
Tickets can be purchased at the Direccion Regional de Cultura office in Cusco. It's located at Calle Garcilaso (near the Plaza Regocijo).
If you are already in Aguascalientes, there's an official sales office in town. However, depending on the time of year and the influx of tourists, there's no guarantee of ticket availability.
Note: Payment at these physical locations is typically in Peruvian Soles, and it's wise to go early in the day to avoid potential queues.
🚆 Machu Picchu from Lima Step 4: Get to Aguascalientes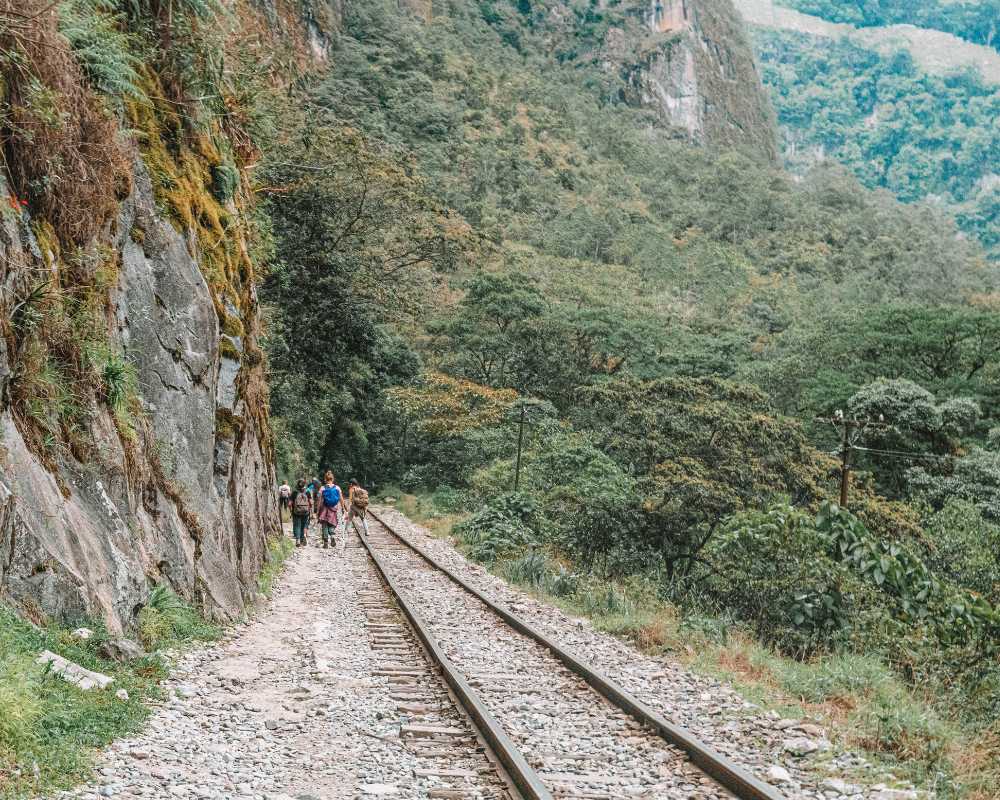 Aguas Calientes, also known as Machu Picchu Pueblo, serves as the primary access point to the world-renowned archaeological site of Machu Picchu.
Nestled in the cloud forests at the base of the Machu Picchu mountain, this small town is reached either by train or on foot.
Depending on your preference for comfort, adventure, or a blend of both, there are several routes you can take.
Train to Aguascalientes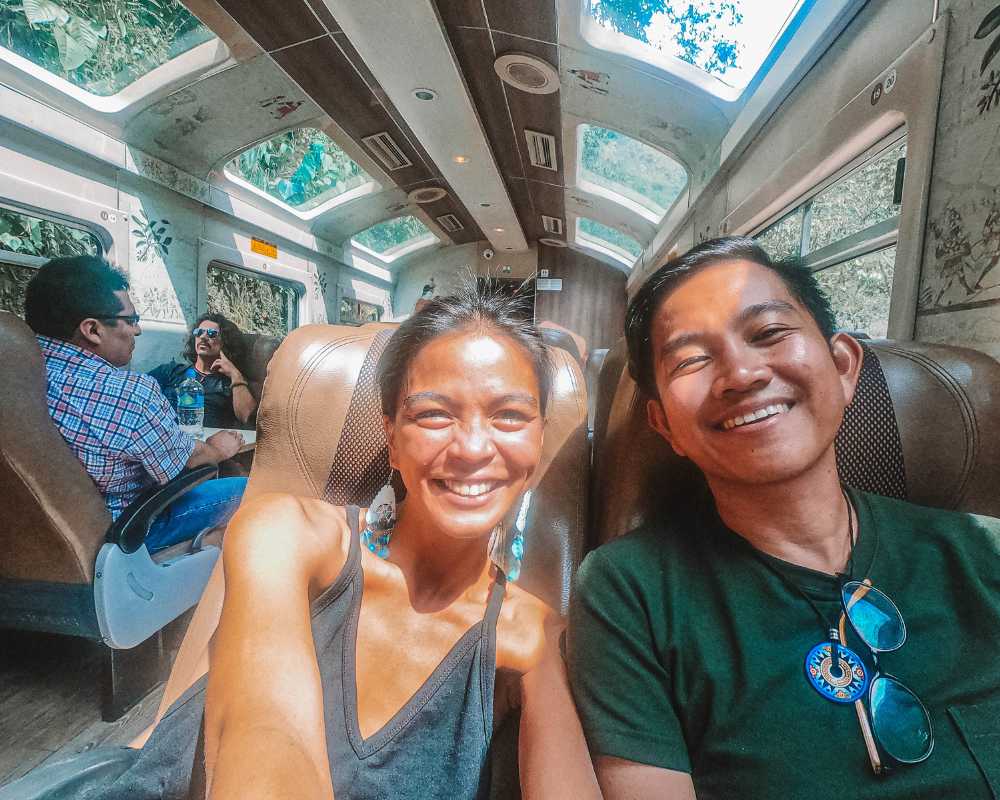 The train ride to Aguas Calientes offers a mesmerizing journey through the Sacred Valley, showcasing the majestic Andes and the lush Urubamba River valley.
Two main companies operate train services from Cusco (or the nearby Ollantaytambo) to Aguas Calientes:
PeruRail: Offers services like Vistadome and Expedition.
Inca Rail: Provides options such as The Voyager, The 360°, and The First Class.
Trains usually start early in the morning, with the last ones departing in the late afternoon. It's essential to check the exact schedule as timings can vary based on the season and demand.
Both PeruRail and Inca Rail have official websites where you can check schedules and book tickets.
Tickets can be purchased at the train stations in Cusco or Ollantaytambo or at official sales offices in Cusco city.
Many travel agencies in Cusco can arrange train tickets, often as part of a package deal.
The train ride from Ollantaytambo to Aguas Calientes is roughly 1.5 to 2 hours, while from Cusco (Poroy station), it takes about 3 to 4 hours.
Panoramic windows on most trains allow travelers to immerse themselves in the breathtaking landscapes of the Sacred Valley.
Trains are equipped with comfortable seating, and some services even offer snacks and entertainment.
Trek to Aguascalientes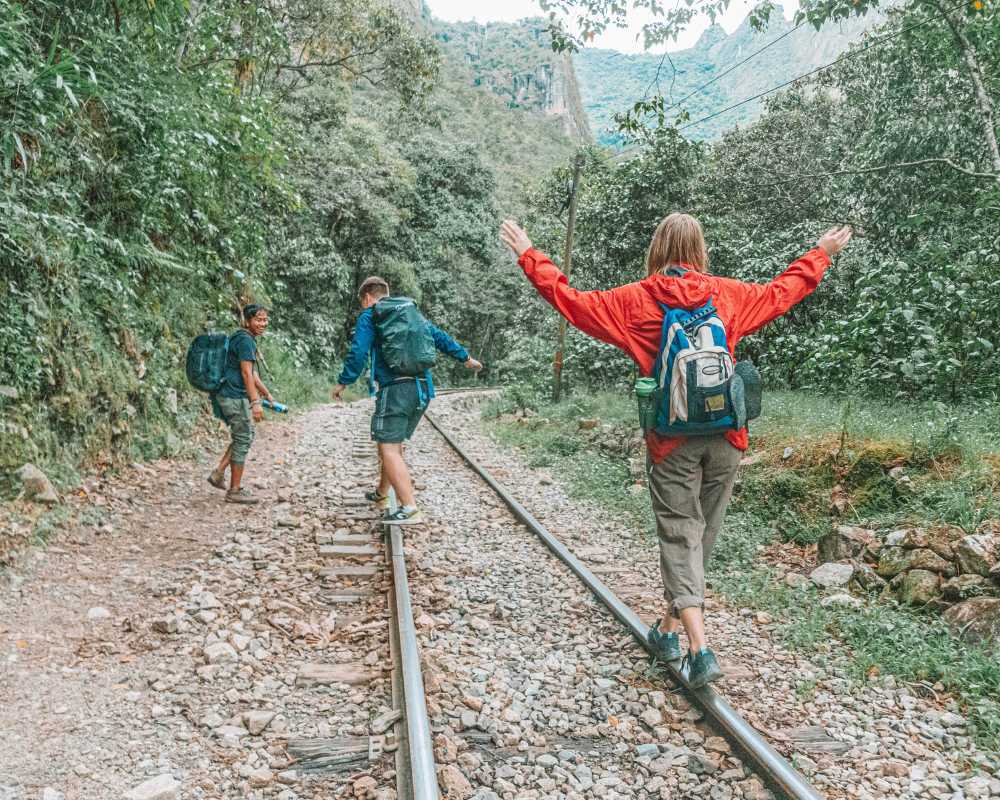 For those who wish to experience scenic beauty at a slower pace or are on a tight budget, walking the train tracks from Hidroeléctrica to Aguas Calientes is a popular choice.
From Cusco or Ollantaytambo, travelers often take a combination of buses and shared vans (colectivos) to Hidroeléctrica. The journey usually involves:
Bus/colectivo to Santa Maria.
Another colectivo from Santa Maria to Santa Teresa.
Finally, a short ride or walk to Hidroeléctrica.
The walk along the tracks takes about 2 to 3 hours, covering a distance of approximately 10 km (6.2 miles).
The path is mostly flat with a few small inclines and declines. The train tracks run alongside the Vilcanota River, offering serene river views and glimpses of the surrounding mountains.
While the walk is on a well-trodden path, it's crucial to stay alert and move away from the tracks when trains approach.
👉🏽 See also: Everything you need to know about walking the train track route to Machu Picchu
🛏️ Machu Picchu from Lima Step 5: Aguascalientes Town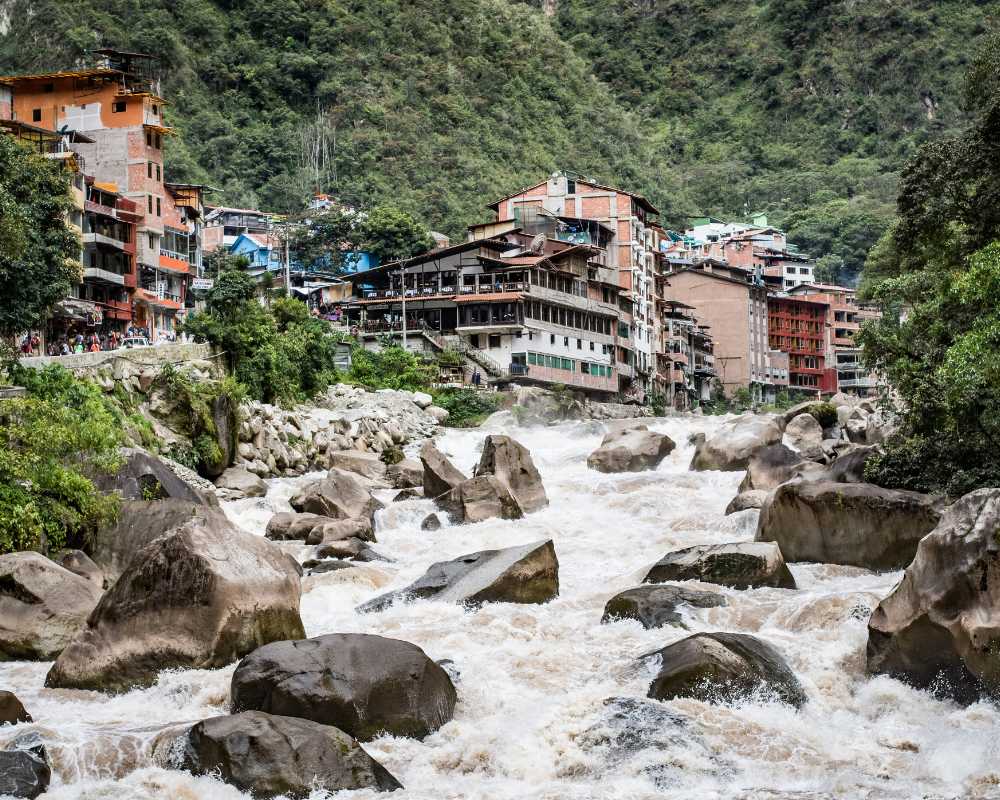 Aguas Calientes is the closest access point to the renowned Incan citadel of Machu Picchu.
Named after the local hot springs ('aguas calientes' translates to 'hot waters' in Spanish), this bustling town is nestled within a deep gorge below the ruins, surrounded by towering green mountains and the meandering Urubamba River.
Over the years, Aguas Calientes has transformed from a modest railway stop to a vibrant town filled with a plethora of accommodation options, catering to the diverse needs of the numerous travelers who arrive eager to explore the nearby wonder.
Where to stay in Aguas Calientes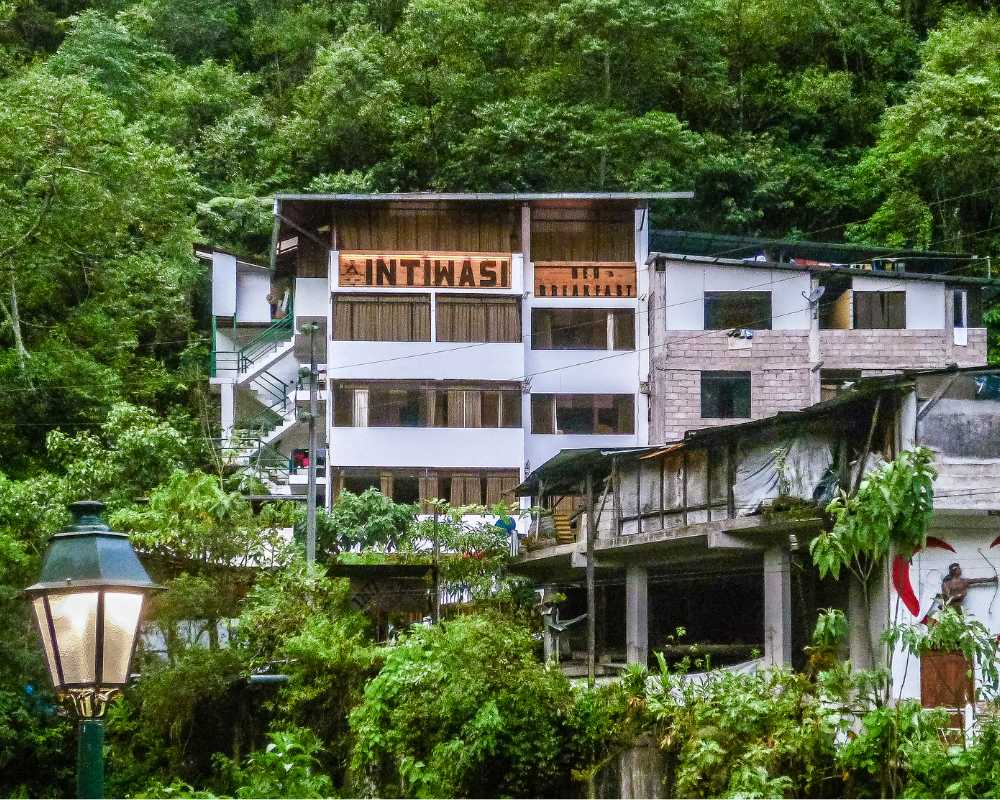 For backpackers and travelers on a shoestring budget, Aguas Calientes offers several hostels that provide a basic, yet comfortable, stay.
El Tambo Machupicchu: A favorite among backpackers, this hostel offers dormitory rooms and is centrally located.
Supertramp Hostel: A vibrant atmosphere with a communal spirit, ideal for solo travelers looking to meet others.
Hostel Machupicchu Land: Conveniently situated, it provides simple rooms with essential amenities.
If you're looking for more comfort without breaking the bank, several mid-range hotels offer pleasant rooms and additional amenities.
Inti Punku Machupicchu Hotel & Suites: A stone's throw away from the train station, this hotel boasts cozy rooms and a complimentary breakfast.
Tierra Viva Machu Picchu: Offering serene river views, the rooms here are comfortable with modern facilities.
Casa Andina Standard Machu Picchu: Overlooking the Urubamba River, this hotel provides a mix of comfort and convenience, with an on-site restaurant.
For those who wish to indulge in a luxurious experience after a day of exploring, there are upscale lodges that provide world-class amenities and unparalleled views.
Belmond Sanctuary Lodge: The only hotel located adjacent to the Machu Picchu ruins, it offers an unmatched proximity to the site, with gourmet dining and lush gardens.
Sumaq Machu Picchu Hotel: Nestled on the banks of the Urubamba River, this five-star hotel provides exquisite rooms, spa services, and Peruvian gourmet cuisine.
Inkaterra Machu Picchu Pueblo Hotel: Set within a cloud forest, this boutique hotel offers a unique blend of nature and luxury, with orchid trails and an Andean spa.
🚶🏽‍♀️ Machu Picchu from Lima Step 6: Ascent to Machu Picchu
From this picturesque town nestled among verdant mountains and the roaring Urubamba River, there are two primary ways to ascend to Machu Picchu: on foot or by bus. Both methods offer unique experiences, catering to different types of travelers.
Hike to Machu Picchu from Aguascalientes
For the adventurous souls, hiking from Aguas Calientes offers a rewarding experience that combines physical challenge with breathtaking natural beauty.
The trail consists of a series of steep steps and winding paths. Typically, it takes about 1.5 to 2 hours to reach the entrance of Machu Picchu.
The difficulty level is moderate to challenging, depending on your fitness level. However, many travelers of all ages to this hike!
Begin early to avoid the midday sun and to experience the sunrise over the ruins, if possible. Wear comfortable hiking shoes with a good grip, and bring water, a hat, and sunscreen.
Machu Picchu from Aguascalientes by bus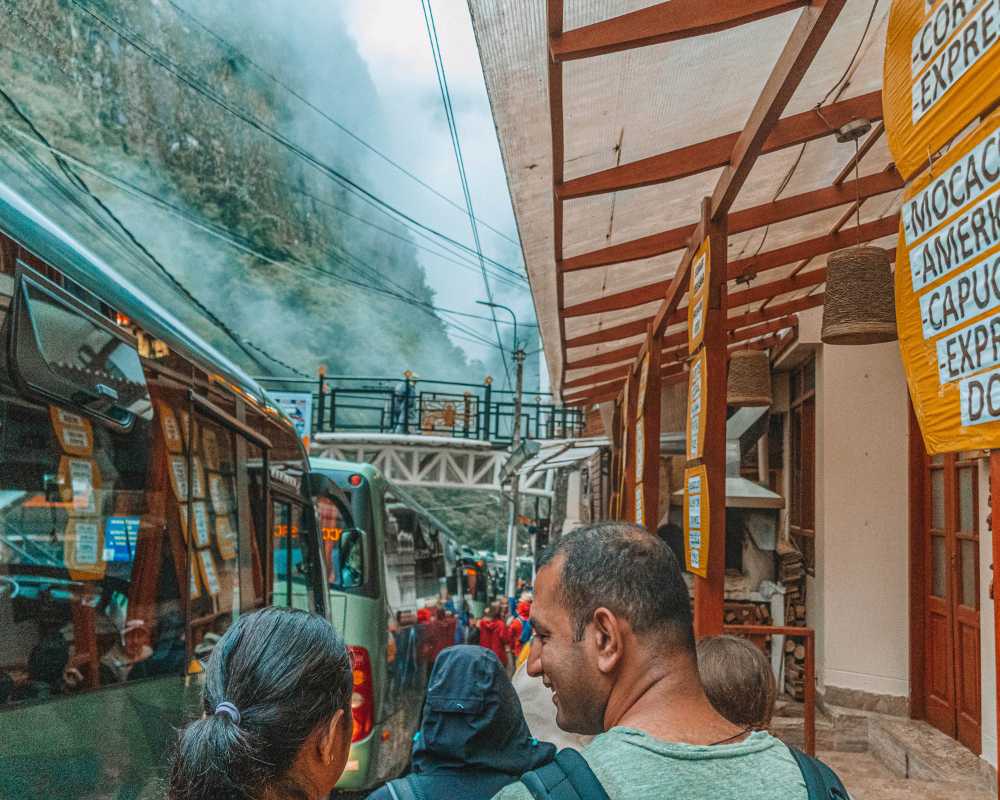 For those who prefer convenience or are short on time, buses operate regularly between Aguas Calientes and Machu Picchu.
The bus ride takes about 25-30 minutes. Buses start operating from around 5:30 AM and run continuously throughout the day.
Expect a winding road that zigzags up the mountain, offering glimpses of the verdant landscape and the Urubamba River below. It's a comfortable ride, with buses designed to navigate the narrow mountain road.
Tickets can be purchased in Aguas Calientes near the bus departure point. It's wise to buy your ticket the day before, especially during peak seasons to avoid waiting in line.
Keep your passport handy; you'll need it both for the bus ride and to enter Machu Picchu.
⛰️ More options to get to Machu Picchu from Lima
Remember, in order to get to Machu Picchu from Lima, follow the steps above. Once you are already in Cusco, there are many ways to get to Machu Picchu like:
Inca Trail
The most famous trail, the Inca Trail spans about 42 km (26 miles) and typically takes 4 days and 3 nights. It leads trekkers through ancient archaeological sites before culminating at the Sun Gate for a sunrise view of Machu Picchu.
Salkantay Trek
A more challenging yet equally rewarding alternative, the Salkantay Trek is a 5-day journey that takes trekkers through the stunning Salkantay Pass and diverse landscapes before reaching Aguas Calientes.
👉🏽 See also: Salkantay Trek vs Inca Trail: which one is better?
Other Alternative Treks
Lares Trek: A less-traveled route through traditional Andean villages, with hot springs awaiting at its end.
Choquequirao Trek: An 8 to 9-day trek leading to both the Choquequirao ruins and Machu Picchu.
Inca Jungle Trail: A combination of biking, trekking, and optional activities like ziplining.
⁉️ FAQ: Machu Picchu from Lima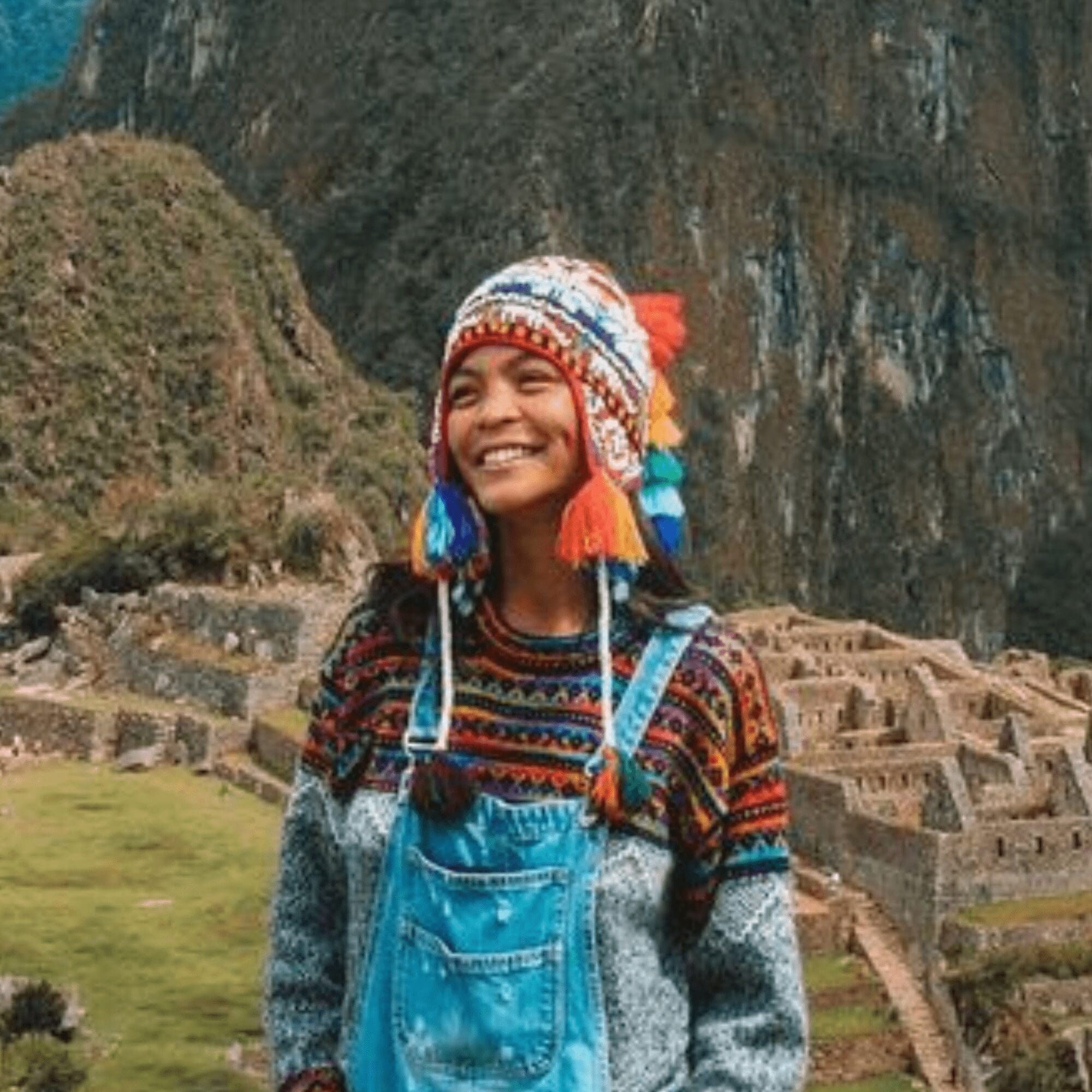 Trisha Velarmino is the Global Editor-in-Chief of the Insider Media Group operating in Europe, Asia, and North America. She lived in Peru for 1.5 years and has helped thousands of expats, digital nomads, and solo travelers easily visit Peru. Trisha has traveled Peru extensively from North to South.