From start to finish, our Lares Trek to Machu Picchu Travel Guide offers comprehensive advice, ensuring a memorable experience amidst the stunning Andean landscapes and rich cultural heritage.
Deep in the heart of the Peruvian Andes lies a less-trodden path known as the Lares Trek, a captivating journey that weaves through the majestic mountains, serene valleys, and vibrant local communities.
Divergent from the more renowned Inca Trail, the Lares Trek unfolds a unique tapestry of natural landscapes and authentic cultural experiences.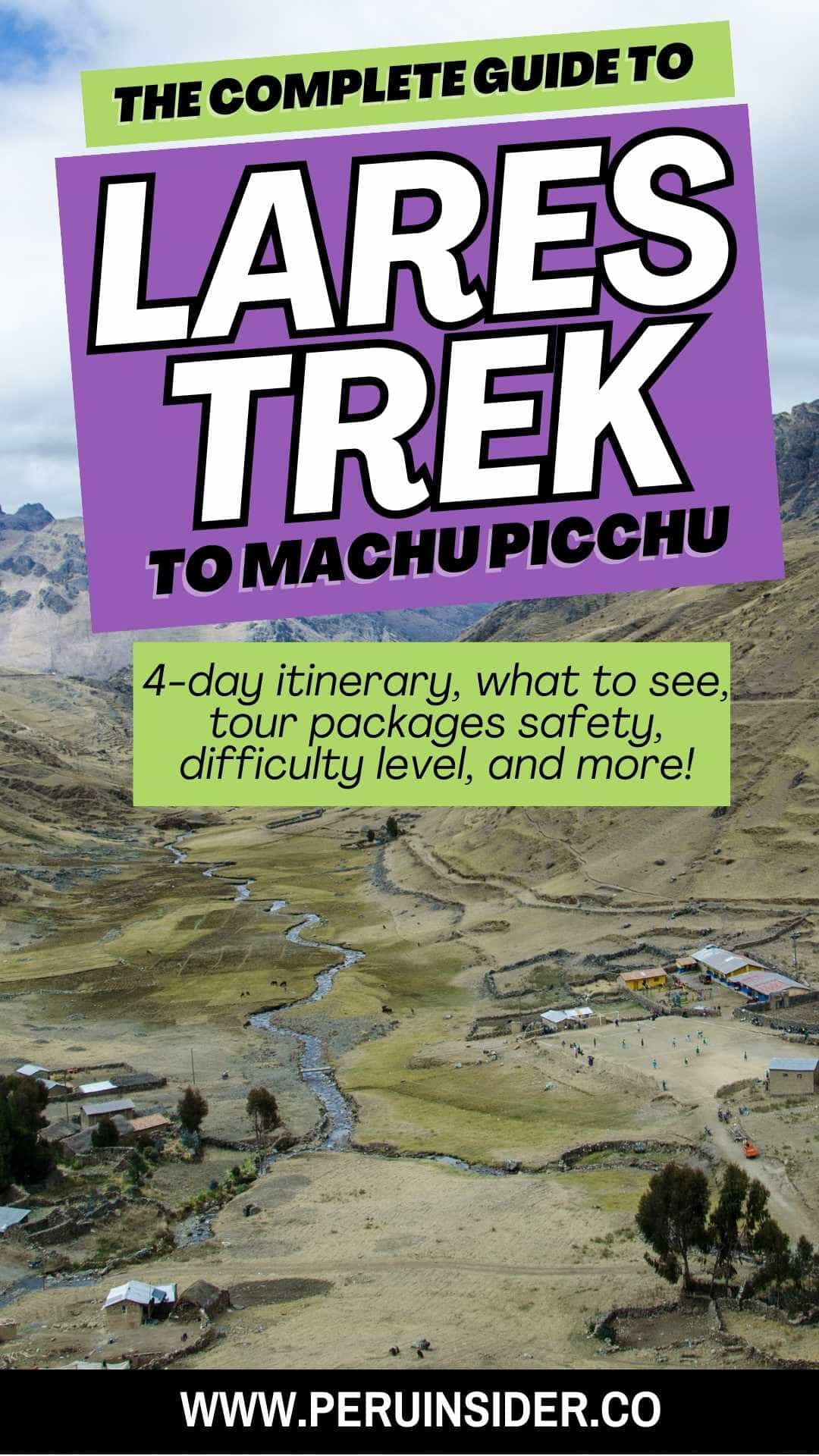 Offering an intimate look into the life of Andean communities while enveloped by snow-capped peaks and lush green terraces, the trek promises not just a physical journey but a transformative experience.
Spanning over several days, the Lares Trek is customizable in its length and challenge, giving you the option to design an adventure tailored to your stamina and curiosity.
With its inception from the quaint town of Lares, renowned for its therapeutic hot springs, the trail traverses a range of elevations and terrains, culminating in the ancient city of Machu Picchu.
You might also like: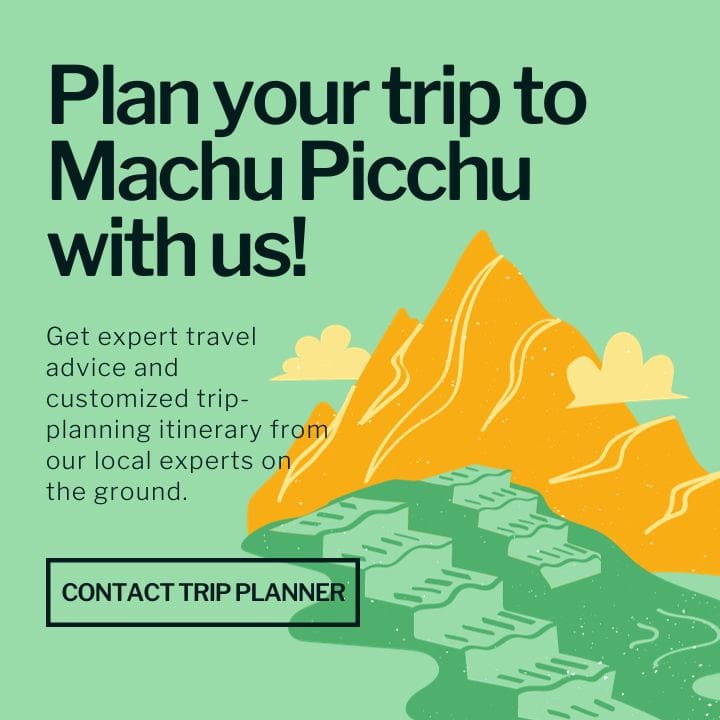 🙋🏽 Is the Lares trek worth it?
DEFINITELY! While Machu Picchu stands as a crowning jewel in the history of Incan civilization, the Lares Trek is emblematic of the enduring spirit and traditions of its people.
The path is not just a trail but a living testimony to the communities that have resided in these mountains for centuries.
Each step on the Lares Trek takes one closer to the pulse of a rich cultural heritage, interspersed with stories, rituals, and traditions that have survived the ravages of time.
Additionally, the trek stands as an alternative to the Inca Trail, offering a quieter, more solitary experience.
This path is especially significant for those who yearn for a deeper connection with nature and an unfiltered immersion into Andean life.
It represents a balance between discovery and reflection, where the journey becomes as monumental as the destination.
🏋🏻‍♂️ How difficult is the Lares Trek?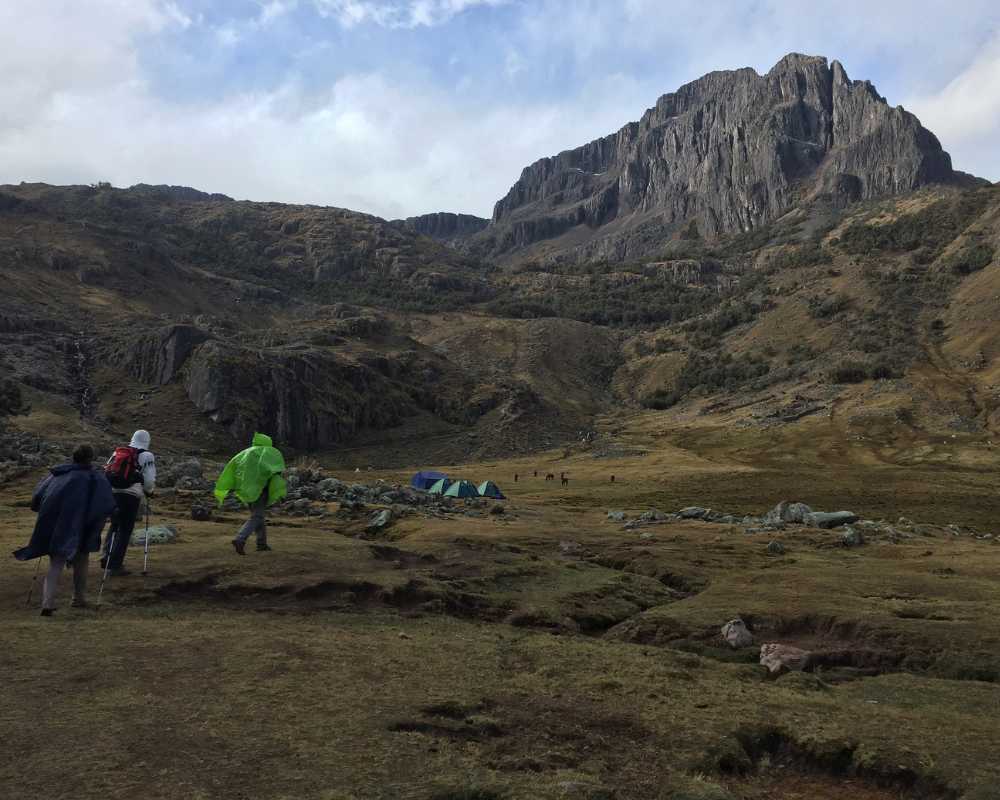 The Lares Trek to Machu Picchu will take you through a range of altitudes due to its mountainous terrain. It is considered moderately difficult, but its challenge can vary depending on several factors.
The path traverses a variety of terrains, from lush valleys to steep mountain passes. While some sections can be relatively flat, others are uphill and can be challenging.
The starting point of the trek, Lares town itself sits at an altitude of approximately 3,200 meters (10,500 feet) above sea level.
Depending on the specific route taken, you may cross several high-altitude passes. One of the highest points on the Lares Trek is often the pass named Cusco C'asa, which stands at about 4,400 meters (14,435 feet).
Campsites along the trek can vary in altitude, but you should be prepared for overnight stays at elevations ranging from 3,000 to 4,000 meters (9,800 to 13,100 feet) above sea level.
Before heading to Machu Picchu, trekkers usually descend to the town of Aguas Calientes, which lies at an altitude of around 2,040 meters (6,690 feet).
If your trek ends at Machu Picchu, this iconic archaeological site sits at approximately 2,430 meters (7,970 feet) above sea level.
Like any trek, physical conditioning plays a role. Those with a higher level of fitness and prior trekking experience may find the Lares Trek less challenging compared to those without.
📅 Best months to do the Lares Trek to Machu Picchu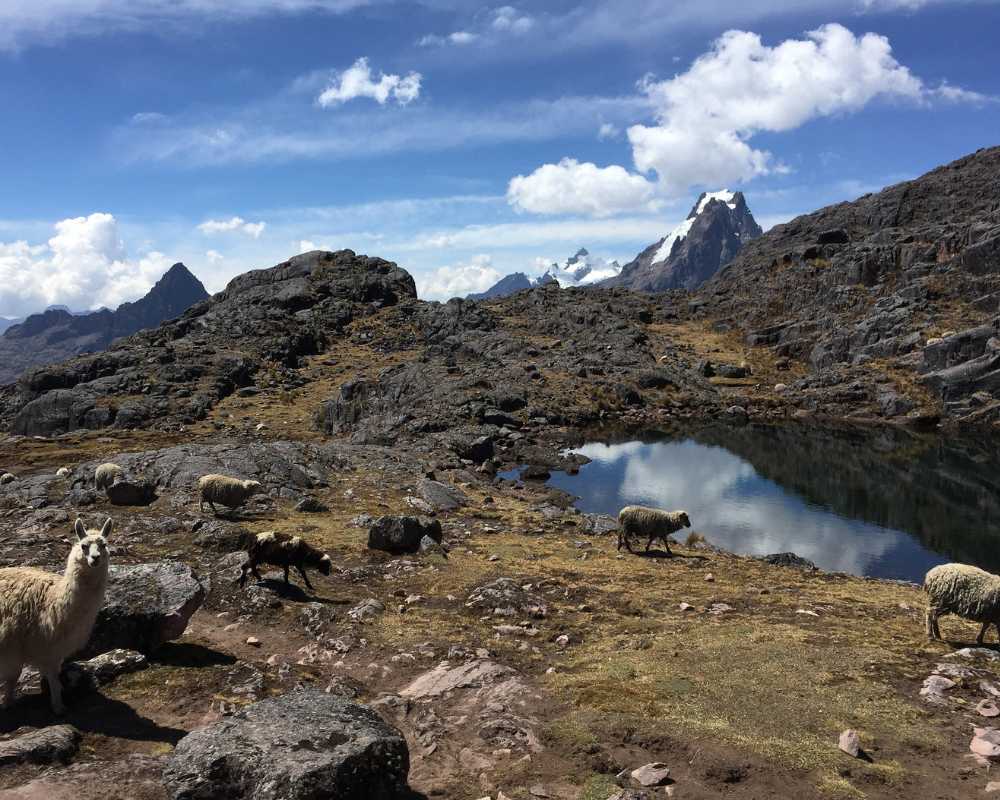 The Andes Mountains present a distinct climatic pattern that can greatly influence your trekking experience.
Typically, there are two main seasons to consider when planning your Lares Trek to Machu Picchu.
The dry season from May to September is characterized by clear skies and crisp air, the dry season is generally considered the best time for the Lares Trek.
Days are sunny and warm, while nights can be quite cold, especially at higher altitudes.
The rainy season is from October to April. Rainfall becomes more frequent, particularly between January and March. Though the scenery is lush and the trails less crowded, the wet conditions can present challenges.
👉🏽 See also: A month-by-month guide on the best time to visit Machu Picchu
📝 Permits for Lares Trek to Machu Picchu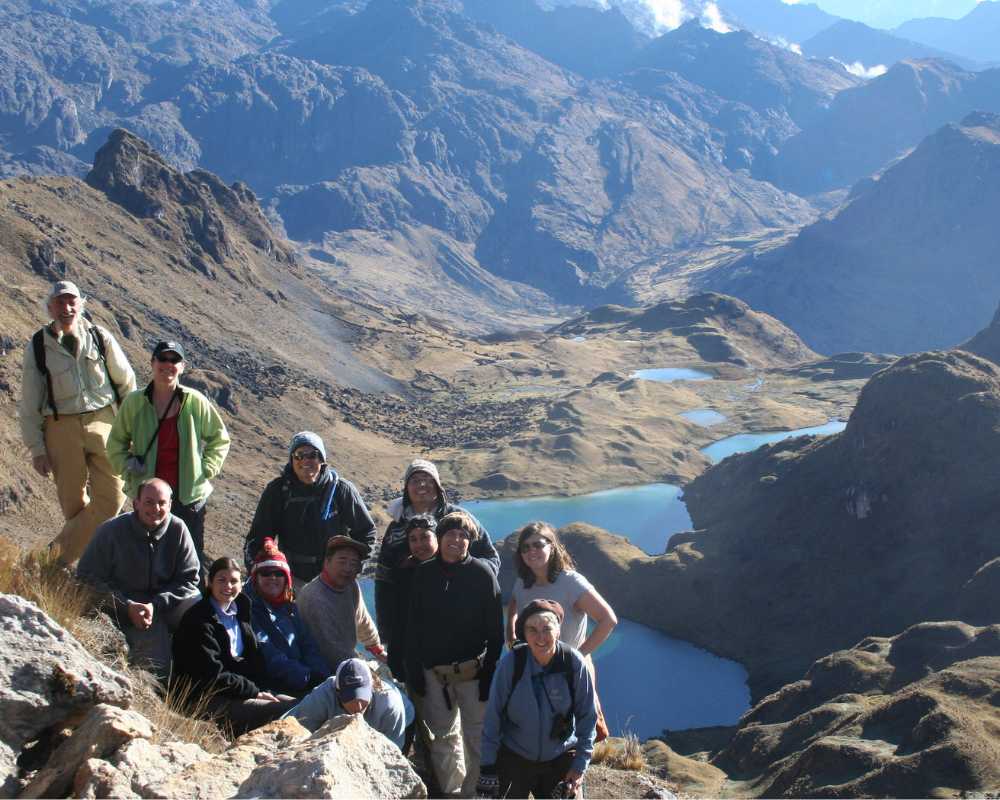 Unlike the Inca Trail, which has limited daily entries, the Lares Trek does not require a specific permit. However, if your trek culminates at Machu Picchu, you'll need an entry ticket.
It's best to book these in advance, especially during peak months, as there's a daily limit. While not mandatory, hiring a local guide is recommended for their expertise and knowledge of the Lares Trek.
Costs can vary depending on the length of the trek and the services included, like meals, porters, and camping equipment.
As you pass through local communities, there may be modest fees or contributions to support community projects or to enter certain areas.
🥾 What to pack for Lares Trek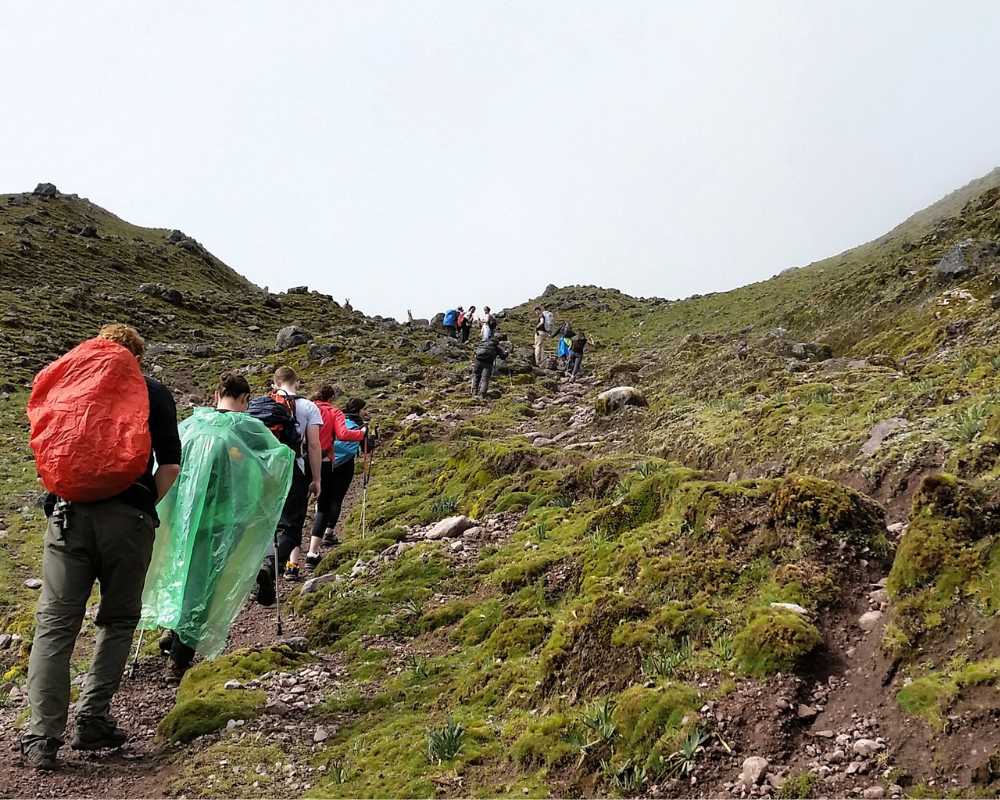 The packing list for Lares Trek should be tailored to your needs and preferences, and it might vary depending on the season and specific conditions expected during the trek.
Always consult with your trekking agency or guide to ensure you're adequately prepared. The tour agency will also bring the essentials – just check in with them.
Breathable Base Layers: Wicks away moisture to keep you dry.
Insulating Mid-layers (fleece or wool): Retains body heat, especially during chilly evenings.
Waterproof and Windproof Jacket: Protects against rain and wind.
Hiking Pants: Comfortable for walking; consider ones that can convert into shorts.
Waterproof Overtrousers: To be worn over regular hiking pants during rain.
Thermal Underwear: Keeps you warm during the cold nights.
Hat and Sun Cap: Protects against sun during the day and keeps you warm at night.
Gloves: For cold weather and protection against wind.
Woolen or Thermal Socks: Provides warmth and reduces the risk of blisters.
Hiking Boots: Provides ankle support and good grip on varied terrains.
Sandals or Camp Shoes: To relax in after a day of trekking.
Backpack with Rain Cover: Carries essentials and protects them from rain.
Sleeping Bag (with a 4-season rating): Keeps you warm during cold high-altitude nights.
Trekking Poles: Assists in walking, especially during descents and on rough terrains.
Headlamp with Extra Batteries: Useful for early starts and nightly camp tasks.
Water Bottles or Hydration Bladder: Keeps you hydrated.
Water Purification Tablets or Filter: Ensures safe drinking water.
High-energy Snacks: Quick energy boosts on the trail (e.g., nuts, energy bars).
Personal First Aid Kit: For minor injuries and ailments.
Sunscreen and Lip Balm with SPF: Protects against the sun's UV rays.
Insect Repellent: Protects against insect bites.
Altitude Sickness Medication: Consult your doctor before taking.
Personal Medications: Any prescriptions or necessary over-the-counter meds.
Toothbrush and Toothpaste
Biodegradable Soap and Shampoo
Hand Sanitizer: For quick cleaning when water isn't available.
Quick-dry Towel
Passport and Copies: Needed for identification and permits.
Cash (in Peruvian Soles): For small expenses and tips.
Maps and Guidebooks: To navigate and learn about the trail.
Sunglasses: Protects eyes from UV rays.
Binoculars: For wildlife or distant scenery viewing.
Portable Charger: To recharge electronics.
Earplugs: Helps ensure a peaceful night's sleep.
Plastic Bags or Pack Liners: For organizing and keeping items dry.
🧭 How long is the Lares trek?
The Lares Trek is typically 3 to 4 days long, depending on the specific route chosen and the itinerary of the trekking agency.
The actual trekking distance varies based on the route, but it's usually between 33 to 40 kilometers (20 to 25 miles) in total.
Here's a sample day-by-day itinerary for the Lares Trek to Machu Picchu:
Lares Trek Day 1: Cusco to Lares – Huacawasi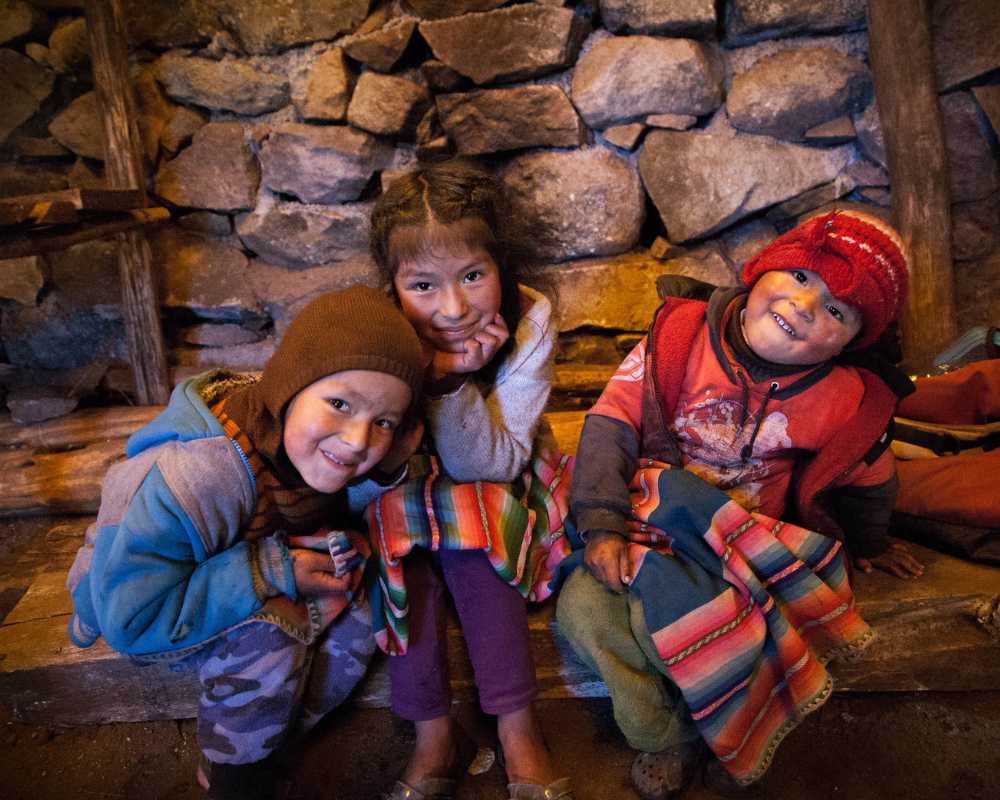 The journey commences with an early morning drive from Cusco to the town of Lares, which is renowned for its medicinal hot springs.
Upon arrival, you will spend some time relaxing in these therapeutic waters to dip. Post this refreshing dip, the trek officially begins.
The trail initiates with a moderate climb, taking you through stunning landscapes dotted with local farms and settlements.
Along the way, you'll likely encounter farmers tending to their crops and herds. As the day progresses, the ascent becomes more pronounced, leading towards the village of Huacahuasi.
Here, the dwellings are made of stone and adorned with intricately thatched roofs.
Settling in for the night, you'll camp near the village and might get an opportunity to interact with the local community and learn about their traditions.
Lares Trek Day 2: Huacawasi to Ipsaycocha Lake
Awakening to the gentle sounds of nature and perhaps distant echoes of village life, Day 2 or Lares Trek promises exhilaration.
Post breakfast, you'll embark on a challenging but rewarding climb towards the highest point of the trek: the Ipsaycocha Pass, which stands at a breathtaking altitude of 4,450 meters (14,599 feet).
The ascent is steep, but your efforts are rewarded with panoramic views of the surrounding snow-capped peaks and serene glacial lakes.
After soaking in the beauty from the pass, the trail descends towards the tranquil Ipsaycocha Lake.
Here, trekkers will set up camp by its shores, basking in the reflections of the Andean peaks in the water, under a star-studded sky.
Day 3: Ipsaycocha Lake to Patacancha – Ollantaytambo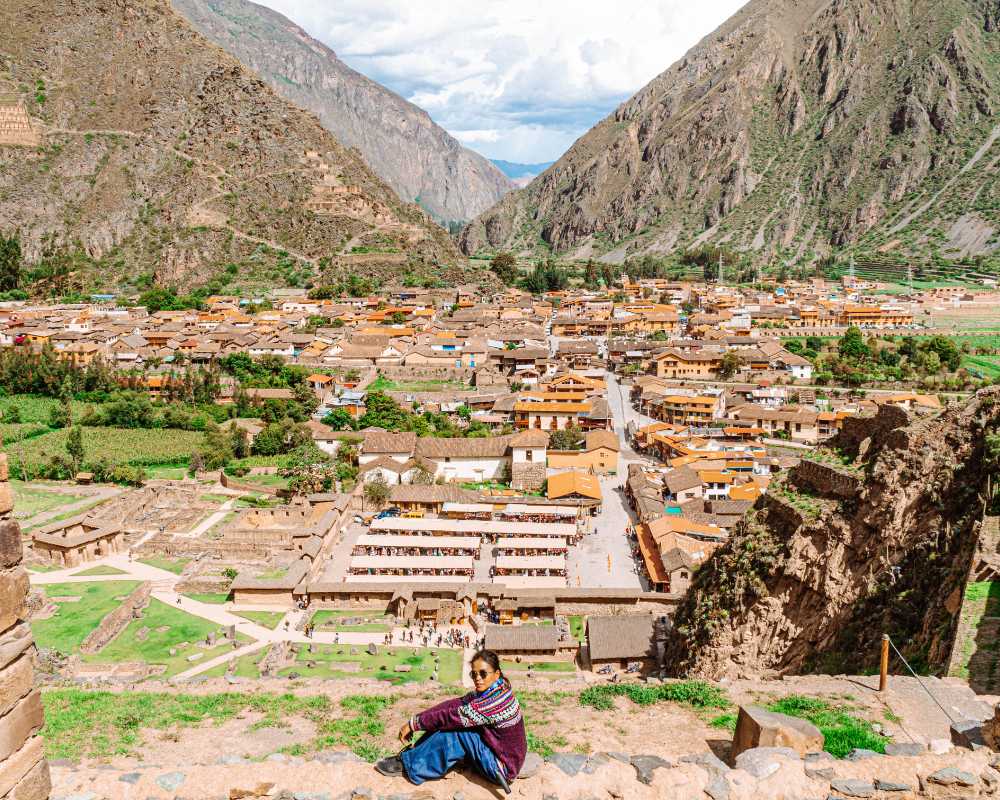 The third day of Lares trek starts with a leisurely walk alongside the Ipsaycocha Lake, followed by a descent through a picturesque valley filled with cascading waterfalls and lush vegetation.
This part of the trail offers a profound cultural immersion as you pass through traditional weaving communities like Patacancha.
The vibrant textiles and intricate handiwork on display showcase the deep-rooted traditions of the Quechua people.
As you continue descending, the trail unveils a blend of Incan terraced fields and contemporary farmlands, leading to the historic town of Ollantaytambo.
This town is a living Inca city and a perfect place to explore ancient ruins and cobbled streets.
Here, you will typically spend the night in a local guesthouse, enjoying the comforts of a bed before the final leg of the journey.
Lares Trek Day 4: Ollantaytambo to Aguas Calientes – Machu Picchu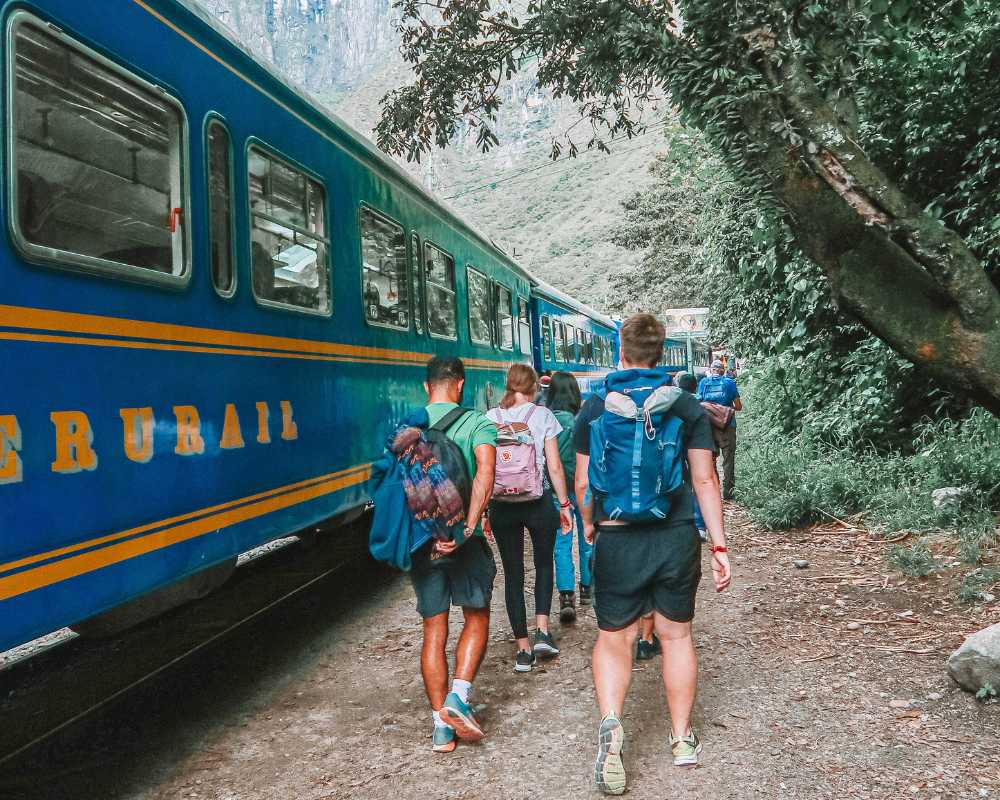 The final day of the Lares trek to Machu Picchu begins with excitement in the air. From Ollantaytambo, you'll take an early morning train ride through the lush Urubamba River valley, arriving in Aguas Calientes.
This town serves as the gateway to Machu Picchu. After dropping off excess luggage, you'll board a bus that zigzags up the mountain to the lost city of the Incas.
As you explore the iconic ruins of Machu Picchu, the mysteries of this ancient civilization come to life through its temples, terraces, and plazas.
The day culminates in a return journey to Aguas Calientes, and from there, many opt to head back to Cusco, carrying memories of a journey through time, nature, and vibrant Andean culture.
This itinerary provides a glimpse of the Lares Trek's typical route. However, variations might exist depending on the trekking agency, specific route chosen, or individual preferences.
🌟 Highlights of the Lares Trek to Machu Picchu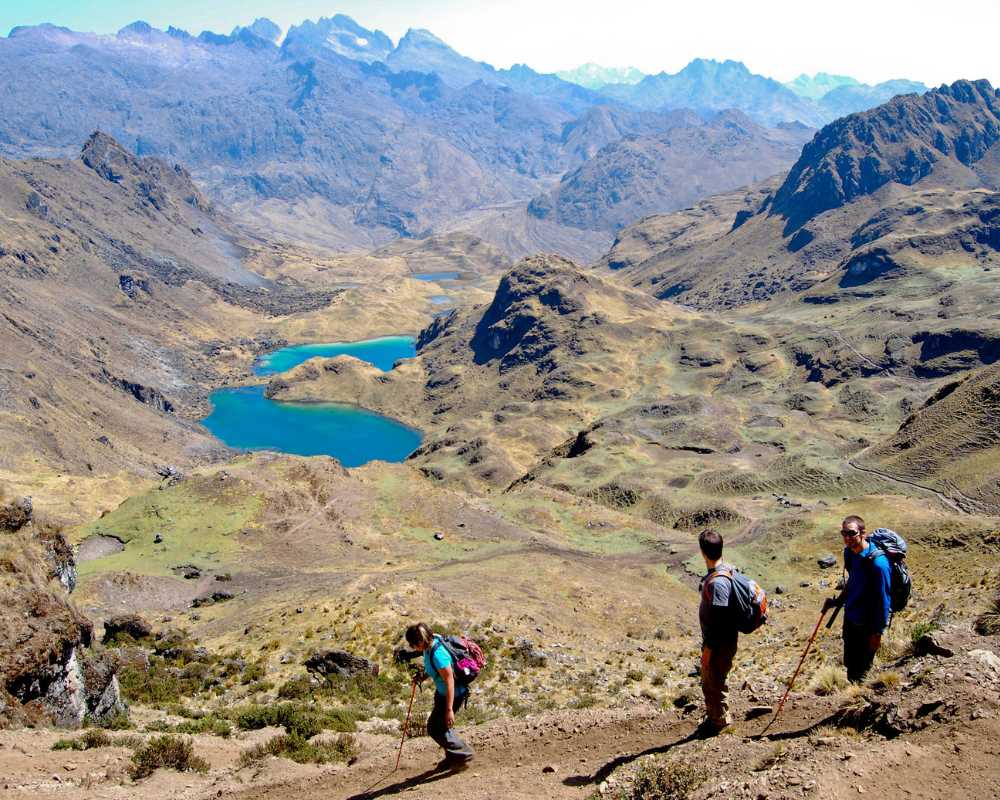 The Lares Trek is a mosaic of biodiversity, weaving through various altitudinal zones, each home to distinct flora and fauna.
As you ascend, they move from lush agricultural terraces to high-altitude puna grasslands. The former is adorned with native crops like potatoes, maize, and quinoa.
The latter is dotted with hardy vegetation suited for the Andean altitude, including the iconic "puya raimondii," the world's tallest bromeliad.
Wildlife is equally captivating. While condors soar the skies, the path might reveal a herd of alpacas or vicuñas grazing.
The region's fauna, though elusive, includes Andean foxes, pumas, and a myriad of bird species, adding a touch of wilderness to the trek.
One of the Lares Trek's hallmarks is its breathtaking viewpoints. Each twist and turn can unveil panoramas that capture the essence of the Andes.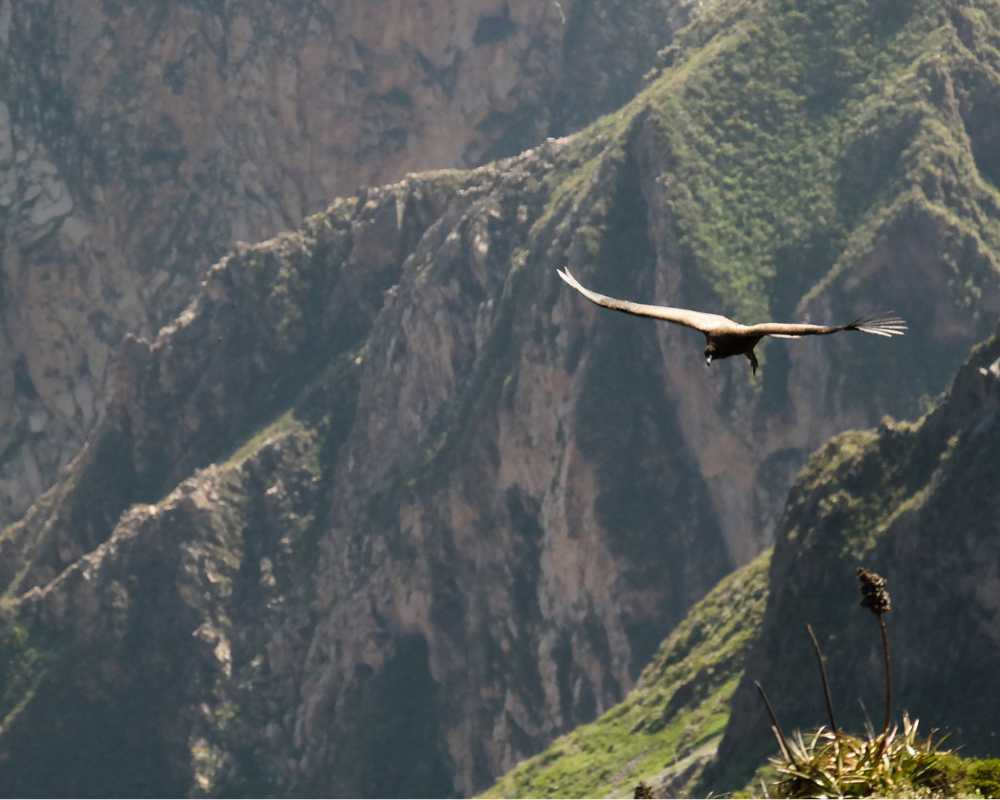 You will make a stop at overlooks that showcase vast valleys, serene glacial lakes, and snow-capped peaks.
The Ipsaycocha Pass, one of the trek's highest points, offers 360-degree views that encapsulate the region's majesty.
While the Lares Trek is less known for Incan ruins than its counterpart, the Inca Trail, it doesn't lack historical significance.
Scattered along the path are remnants of ancient civilizations, from agricultural terraces to age-old stone structures.
Some of these sites might lack the grandeur of Machu Picchu but hold tales of a time when the Incan empire flourished in these highlands.
These ruins, often less frequented, offer a quieter, reflective space for trekkers to ponder the past and the people who once called these mountains home.
🚶🏽 Lares Trek Route Variations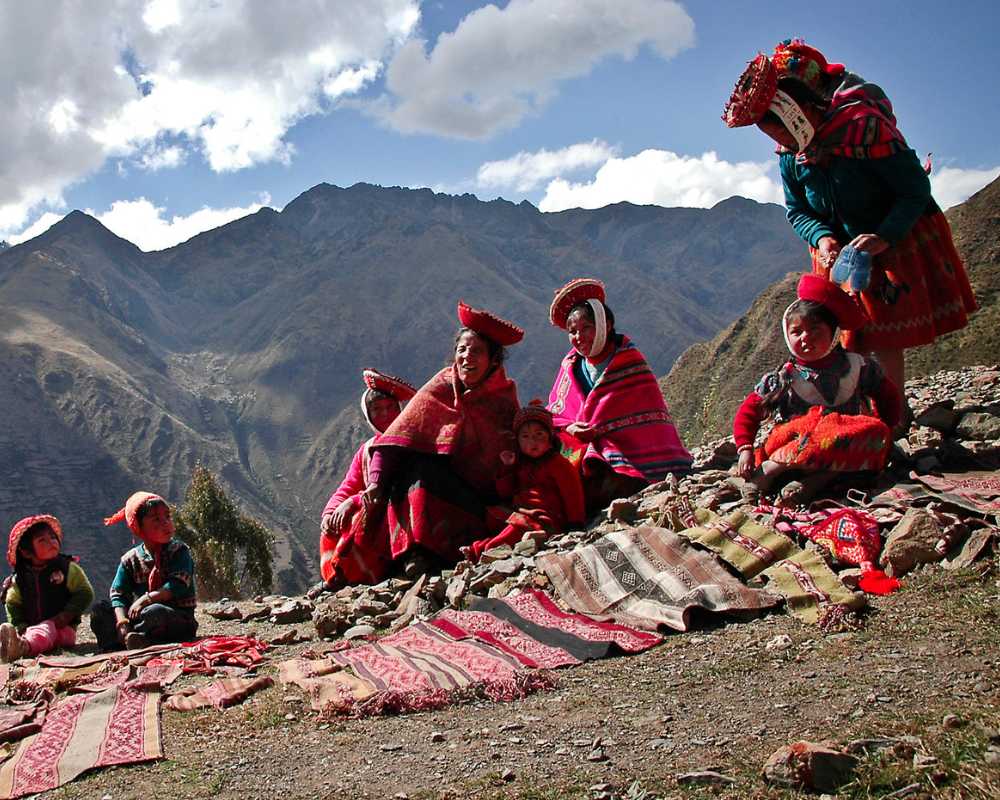 The Lares Trek, nestled in Peru's Sacred Valley, boasts several route variations, each offering distinct experiences.
While the standard trek starts in the town of Lares and often ends in Ollantaytambo, the journey's specifics can differ.
Some paths delve deeper into remote areas, allowing trekkers to traverse multiple high-altitude passes and valleys. Others might prioritize a cultural immersion, weaving through numerous traditional Andean villages.
Yet another variant might be more scenic-focused, encompassing pristine glacial lakes and panoramic vistas.
The trek's duration can range from 2 to 4 days, depending on the chosen route. Regardless of the path, all variations grant a combination of Andean culture, breathtaking landscapes, and a sense of adventure.
⛺ Lares Trek Campsites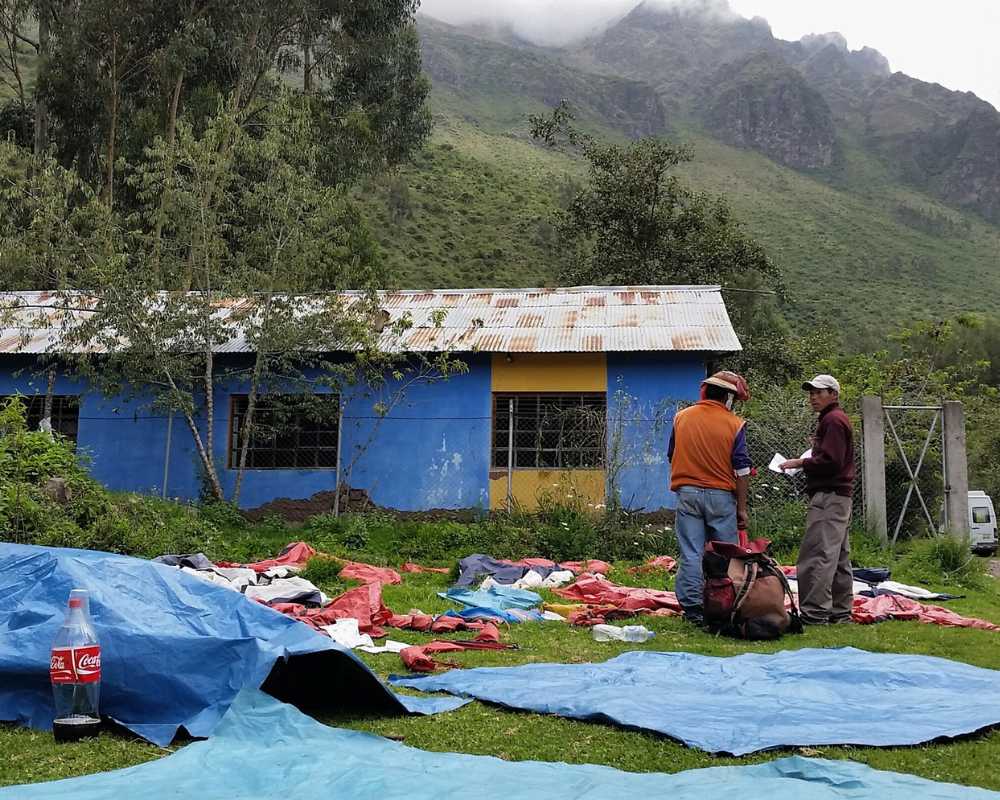 The magic of the Lares Trek extends into the nights, with campsites often set in serene and scenic locations.
These can range from the shores of tranquil high-altitude lakes to quaint village outskirts, offering both natural beauty and glimpses of local life.
Most treks rely on tents, providing a rustic camping experience under the starlit Andean sky.
Some routes might also offer stays in local homes or lodges, giving trekkers a unique opportunity for cultural immersion, warmth, and camaraderie.
🦙 Local Communities along the Lares Trek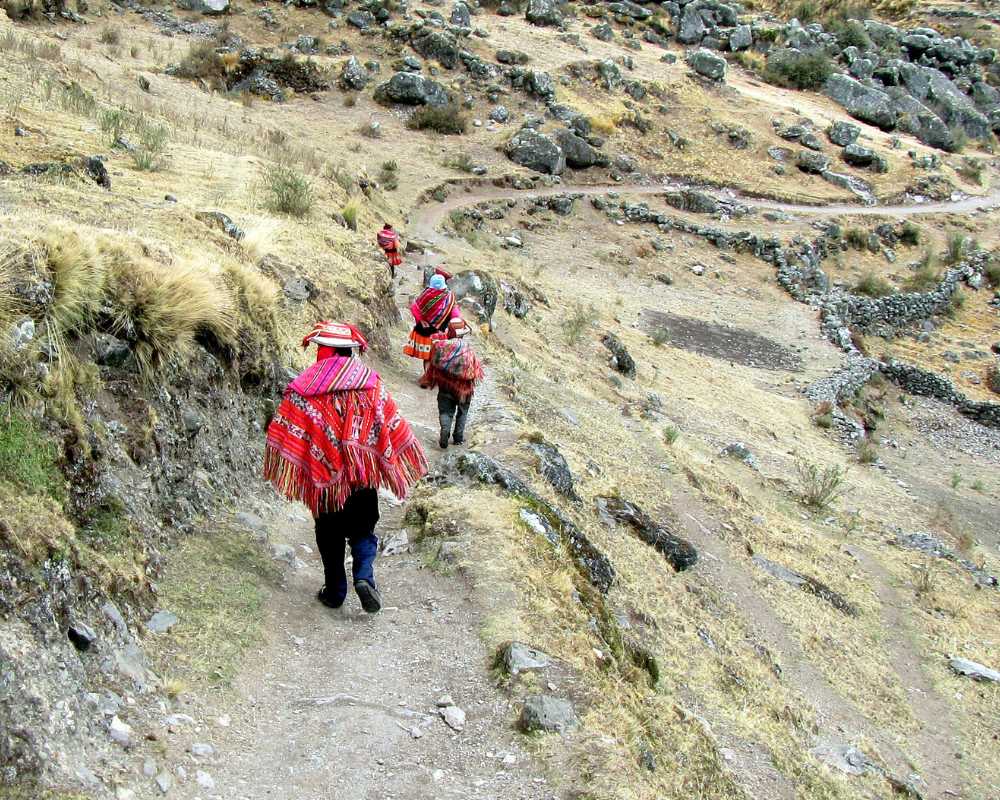 A defining feature of the Lares Trek is its intimate exposure to traditional Andean communities. As trekkers weave through the mountainous terrain, they encounter villages where time seems to have stood still.
These communities maintain centuries-old traditions, from their agricultural practices to their vibrant weaving techniques.
In places like Huacawasi and Patacancha, one can observe intricate textile work, where patterns often tell stories and reflect community identities.
Interactions, although sometimes brief, allow for exchanges of smiles, stories, and sometimes goods, as trekkers might buy handmade crafts directly from artisans.
These encounters serve as gentle reminders of the region's rich cultural tapestry, making the Lares Trek not just a physical journey, but a deeply cultural one too.
🆚 Is Lares or Inca Trail better?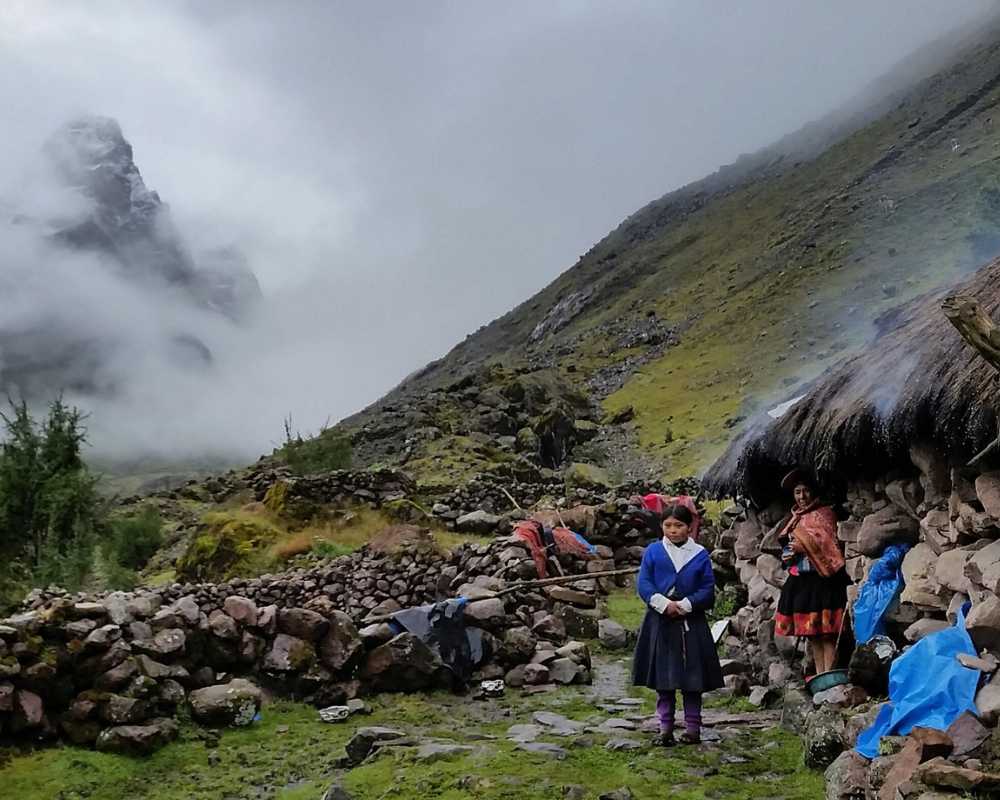 The "better" choice depends on what you prioritize. If you value cultural immersion and fewer crowds, you might prefer the Lares Trek.
If the historical and archaeological aspects, combined with the iconic experience of arriving at Machu Picchu via the Sun Gate, appeal to you, then the Inca Trail could be the choice.
Regardless of the choice, both treks offer a rich and unforgettable experience of the Peruvian Andes.
👉🏽 See also: Salkantay Trek vs Inca Trail: a comparison guide to two of Peru's premier hikes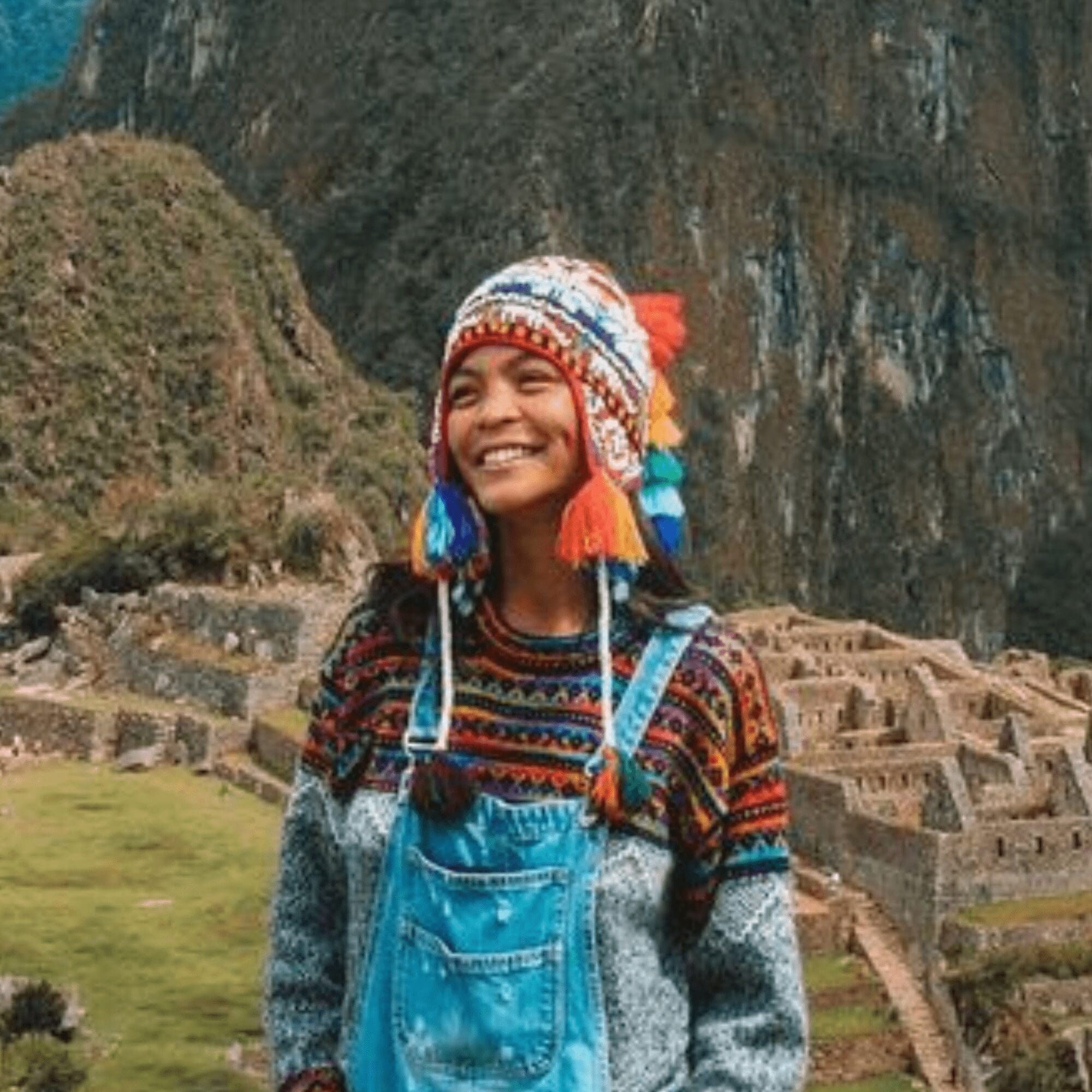 Trisha Velarmino is the Global Editor-in-Chief of the Insider Media Group operating in Europe, Asia, and North America. She lived in Peru for 1.5 years and has helped thousands of expats, digital nomads, and solo travelers easily visit Peru. Trisha has traveled Peru extensively from North to South.