Discover the essence of Peruvian cuisine in the most exquisite Aguas Calientes restaurants. Elevate your dining experience in these remarkable culinary havens amidst the Andes.
Aguas Calientes, the gateway to Machu Picchu is often overlooked because many people just come here to see the citadel.
Sure, there aren't many things to do in Aguas Calientes but if you are staying the night, one of the best things to explore is its restaurant scene.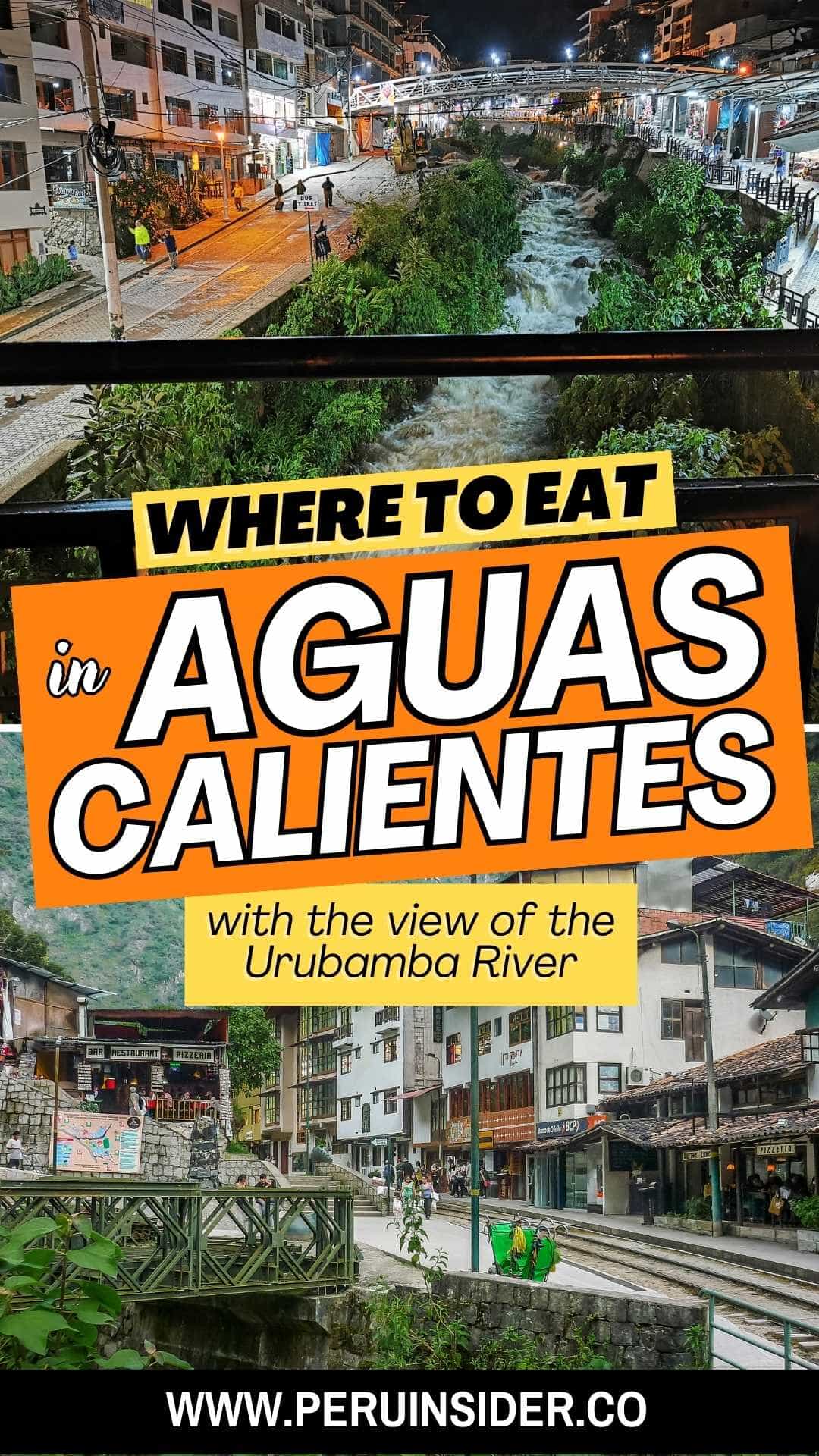 Through the years, the number of Aguas Calientes restaurants has grown with affordable fine dining options.
In case you are staying the night (which most travelers do), check out these best Aguas Calientes restaurants with a view of the Urubamba River.
See also: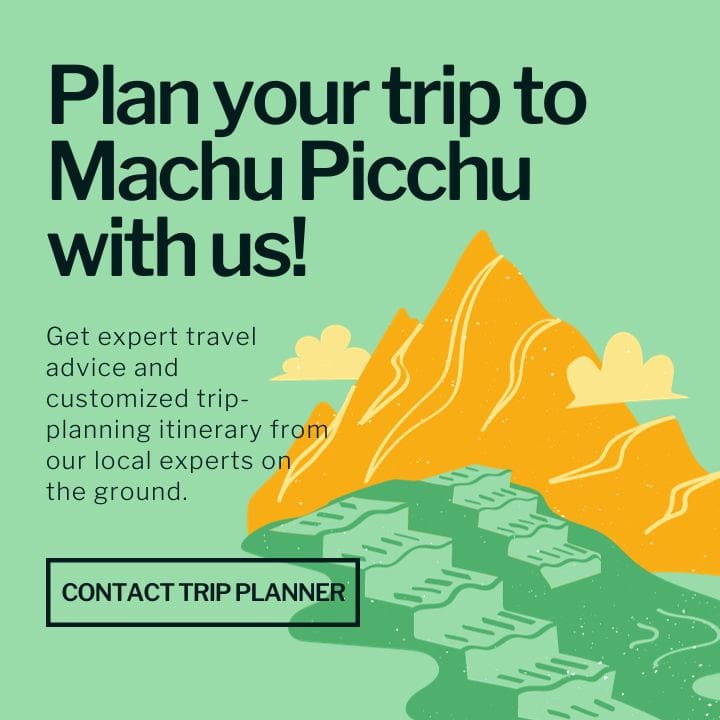 Map of best Aguas Calientes Restaurants
Use this map of best Aguas Calientes restaurants and see what's close to you. If you want restaurants with a view, most of them are located on the street of Imperio de Los Incas.
Here are the best Aguas Calientes restaurants categorized by cuisine with suggestions on what to order plus price range:
1. Full House Peruvian Cuisine & Craft Beer
📍 Imperio de los Incas 620, Aguas Calientes
💲 from $7 USD
🕗 11 AM – 10 PM
Full House Peruvian Cuisine & Craft Beer has a cozy and inviting atmosphere, with a rustic décor that features exposed brick walls and wooden beams.
It also has a large outdoor terrace with stunning views of the Urubamba River. Additionally, it has a large outdoor terrace with stunning views of the Urubamba River.
Their flagship dish is the Trout Ceviche, which is made with dice of trout marinated in lemon and chili peppers with glazed sweet potatoes, tender corn teeth and cushuro mounted with leche de tigre sorbet.
Prices are reasonable, with most dishes costing between $7-$14 USD.
2. Restaurant Bistro Bar Indio Feliz
📍 Pje. Lloque Yupanqui 103, Aguas Calientes
💲 from $7 USD
🕗 12 PM – 10 PM
Nestled in the heart of Aguas Calientes, Restaurant Bistro Bar Indio Feliz is a captivating bistro bar with an eccentric and colorful decor that echoes the vibrant Peruvian culture.
The walls adorned with quirky artwork and maritime ornaments create a unique atmosphere that is both intimate and enchanting, making guests feel as if they have stepped into a fascinating storybook.
The menu is a fusion of Peruvian classics and international flavors, prepared meticulously with fresh, local ingredients.
Signature dishes include trout cooked in various styles and the delightful avocado pirate, which are patrons' favorites.
Don't miss out on their exquisite dessert selections, particularly the chocolate mousse. Reservations are recommended as the place tends to get busy, especially during the tourist season.
3. Incontri del Pueblo Viejo
📍 Ave Pachacutec S/N, Aguas Calientes
💲 from $10 USD
🕗 11 AM – 10 PM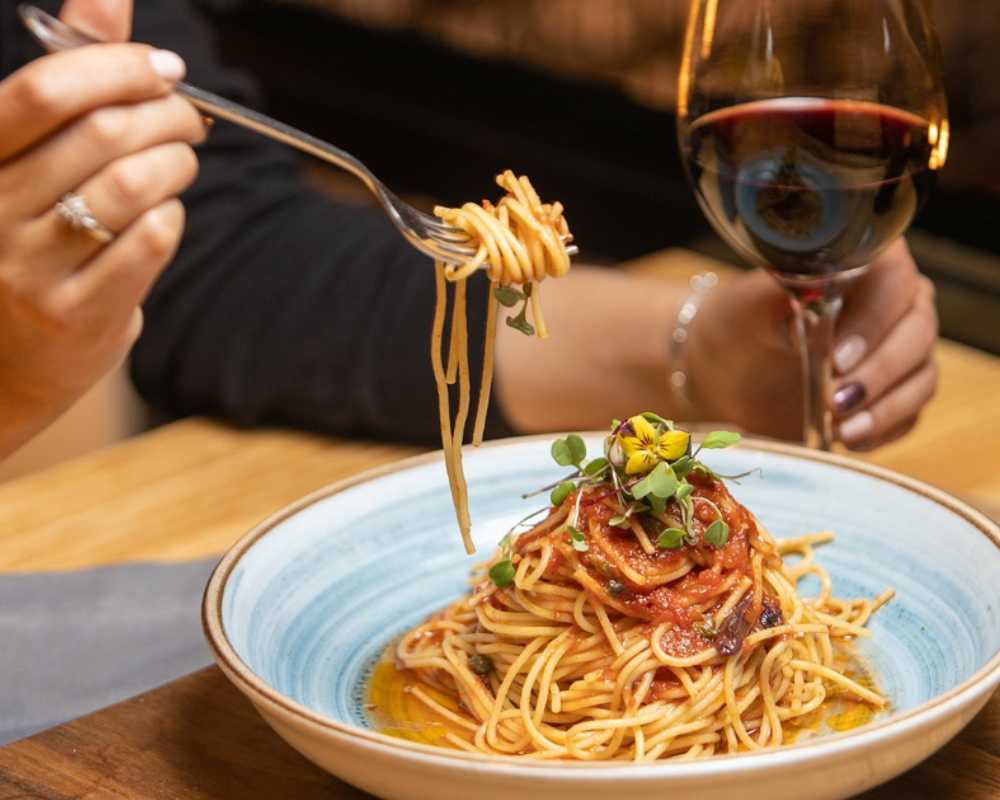 Incontri del Pueblo Viejo offers a rustic charm with its wooden interiors and traditional Andean decor. The warm and inviting atmosphere makes it a perfect spot to relax after a day of exploring Machu Picchu.
Specializing in Italian cuisine with a Peruvian twist, the restaurant boasts a variety of homemade pasta, pizzas, and an excellent selection of wines. Their fusion dishes are a delightful exploration of flavors.
Try their alpaca carpaccio or quinoa risotto for a different take on local ingredients. The portions are generous, ensuring a satisfying dining experience.
4. Toto's House
📍 Imperio de los Incas, Aguas Calientes
💲 from $10 USD
🕗 10 AM – 10 PM
A cozy restaurant with beautiful views of the river, Toto's House offers a warm welcome with its friendly staff and comfortable seating.
The interior is simple yet tasteful, with a touch of traditional Peruvian elements.
Famous for its hearty and delicious grilled meats, Toto's House also offers a range of Peruvian and international dishes. The flavors are authentic, and the presentation is impeccable.
The Pisco Sour here is a must-try, along with their renowned rotisserie chicken. It's best to arrive early or book in advance as it is a popular dining spot among tourists and locals alike.
5. Chullos Restaurant & Craft Beer
📍 Imperio de los Incas 612, Aguas Calientes
💲 from $7 USD
🕗 10 AM – 10 PM
Chullos Restaurant & Craft Beer offers a laid-back ambiance with modern touches and outdoor seating options. With its friendly atmosphere, it's a great place to unwind and enjoy craft beers.
Apart from the array of craft beers, Chullos provides a diverse menu ranging from traditional Peruvian cuisine to international favorites. Their ceviches and tapas are particularly noteworthy.
Pair your meal with one of their house-brewed craft beers for an enhanced dining experience. The restaurant often has live music, adding to the overall enjoyable atmosphere.
6. Mapacho Craft Beer Restaurant
📍 Imperio de los Incas 614
💲 from $7 USD
🕗 10 AM – 10 PM
Mapacho Craft Beer Restaurant provides a casual, hip vibe with its industrial-style interiors and a lovely view of the river. The space is designed to promote a communal and sociable dining atmosphere.
Specializing in craft beers and smoked meats, Mapacho offers a unique dining experience in Aguas Calientes. Their menu is inspired by barbecue traditions from around the world, combined with Peruvian influences.
Try the smoked ribs or brisket, and make sure to explore their variety of craft beers. The restaurant is also suitable for vegetarians, offering a nice selection of vegetarian dishes.
7. Los Ponchos Peruvian Kitchen
📍 Imperio de los Incas 503, Aguas Calientes
💲 from $7 USD
🕗 9 AM – 10 PM
Los Ponchos Peruvian Kitchen embraces you with an authentic Peruvian atmosphere, surrounded by subtle, elegant decor that reflects the rich culinary heritage of the region.
The ambiance is warm and inviting, making it an excellent choice for a cozy dining experience.
Here, traditional Peruvian cuisine takes the center stage. The restaurant prides itself on using fresh, locally sourced ingredients to create dishes bursting with flavors, such as Lomo Saltado and Ceviche.
Try their daily specials to enjoy a variety of traditional dishes. Their homemade Pisco Sour is also a favorite among the guests, providing a perfect start to a delightful meal.
8. Kaymanka Restaurant
📍 Imperio de los Incas 602, Aguas Calientes
💲 from $7 USD
🕗 9 AM – 10 PM
Kaymanka boasts a relaxed and friendly atmosphere, with decor that beautifully incorporates elements of nature and Andean culture. Large windows allow diners to enjoy the breathtaking views of the surrounding landscapes.
The restaurant offers a diverse menu with a strong emphasis on traditional Andean and Peruvian cuisines.
Fresh trout, quinoa salads, and a range of soups are among the many delicious options available.
For a unique dining experience, try the "Trucha a la Plancha" (Grilled Trout) or the "Sopa de Quinoa" (Quinoa Soup). Their offerings are not only pleasing to the palate but also aesthetically presented.
9. Chef House Peruvian Food
📍 Imperio de los Incas 616, Aguas Calientes
💲 from $10 USD
🕗 10 AM – 10 PM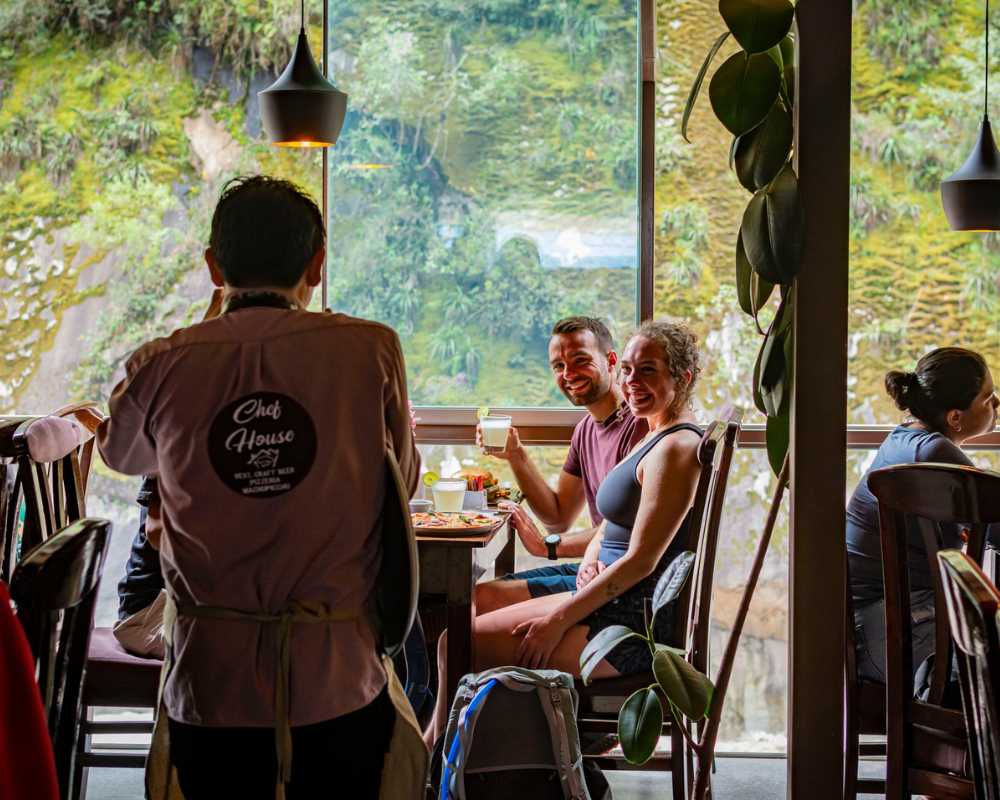 Chef House features a modern and stylish setting, with a touch of traditional Peruvian elements in its decor.
The open-kitchen concept allows diners to witness the culinary artistry in action, adding to the dining experience.
Chef House specializes in contemporary Peruvian cuisine, offering a curated menu that highlights the diversity and richness of local ingredients. The dishes are creatively crafted, providing a delightful gastronomic journey.
10. Magguis Grill Craft Beer
📍 Ave Pachacutec, Aguas Calientes
💲 from $7 USD
🕗 9 AM – 11 PM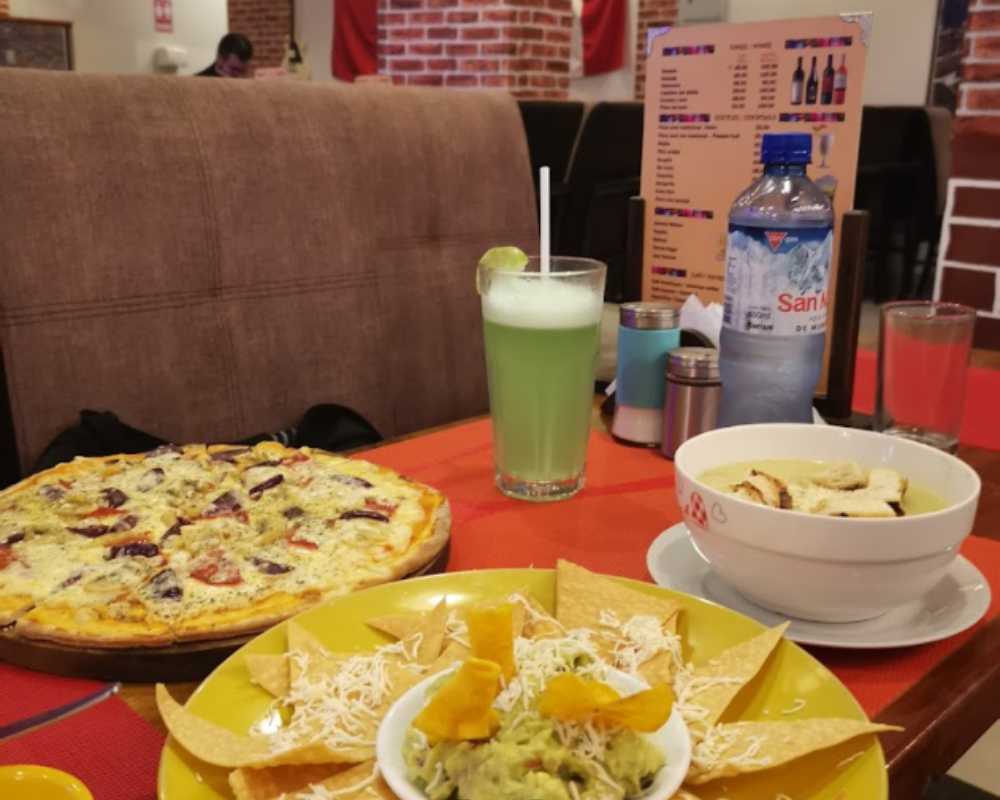 Magguis Grill exudes a casual and lively atmosphere, with rustic furnishings and an extensive bar area dedicated to craft beer enthusiasts.
The outdoor seating option enhances the experience, allowing guests to enjoy the vibrant energy of Aguas Calientes.
Known for its grilled delights and extensive range of craft beers, Magguis Grill offers a menu that caters to diverse preferences. The combination of grilled meats with artisanal beers makes it a haven for food and beer lovers.
Pairing the house-special burgers with one of their craft beers is a must. The friendly staff are knowledgeable and can guide you in choosing the perfect beer to complement your meal.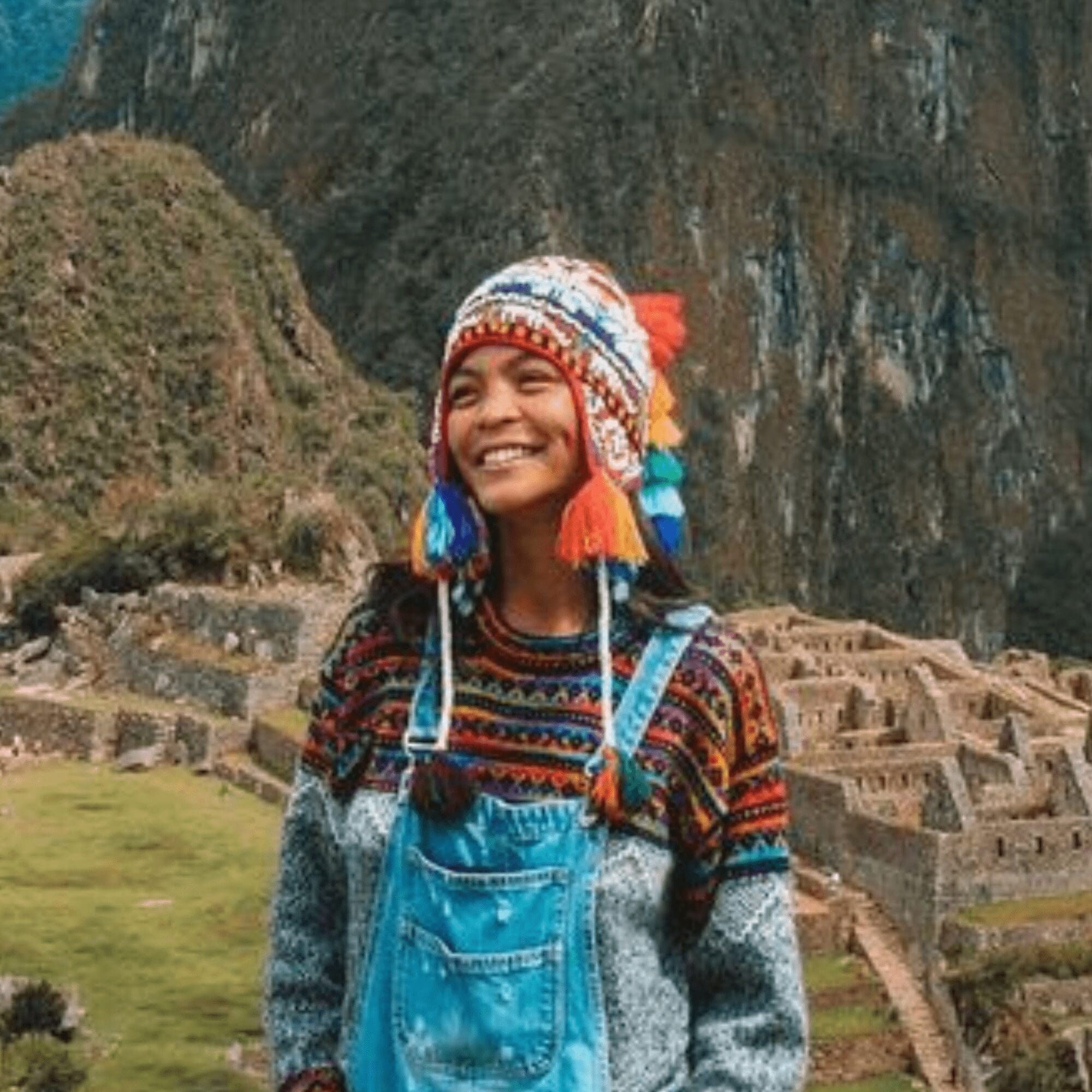 Trisha Velarmino is the Global Editor-in-Chief of the Insider Media Group operating in Europe, Asia, and North America. She lived in Peru for 1.5 years and has helped thousands of expats, digital nomads, and solo travelers easily visit Peru. Trisha has traveled Peru extensively from North to South.